Lechon Paksiw
Lutong Pinoy
Lechon Paksiw Lutong Pinoy is one way of recycling foods or turning a leftover food into a new dish.

It is made of leftover lechon meat or skin with balance and consistency of sweet and sour flavor. Lechon is a whole pig skewered in a bamboo and slowly roasted over charcoal and paksiw is a dish simply cooks in vinegar.
Preparation time: 20 minutes
Cooking time: 45 minutes
Total time: 1 hour 5 minutes
Yield: 4 servings

TESTIMONIAL:
Salamat po for sharing this recipe! I can finally make one for my husband! ~ from Lizette of U.K.

Ingredients:
2 lbs leftover Lechon
2 cups homemade Lechon sauce, recipe follows
1/2 cup red wine
2 cups beef stock
1 cup lemon soda
1piece bay leaf
1sprigs thyme
2 sprigs parsley
4cloves garlic, minced
2 large onions, finely chopped
1 tsp whole peppercorn
1/2 cup soy sauce
1 tsp worcestershire sauce
1/2 cup vinegar
1/4 cup lemon juice
Salt to taste

Cooking Direction:

1. Prepare your bouquet garni. Combine parsley, thyme, bay leaf and whole peppercorns in a cheesecloth. Tie it up
2. In a large saucepan over a medium high heat, pour in the stock, red wine, lemon soda and soy sauce add the bouquet garni and let it boil for 10 minutes until the liquid reduces to half. Remove the bouquet garni.
3. Lower the heat and stir in the leftover roasted pig. Cook for about 20 minutes
4. Add the vinegar, cook for about 10 minutes
5. Add the homemade sauce and stir for about 5 minutes
6. Transfer to a bowl and serve.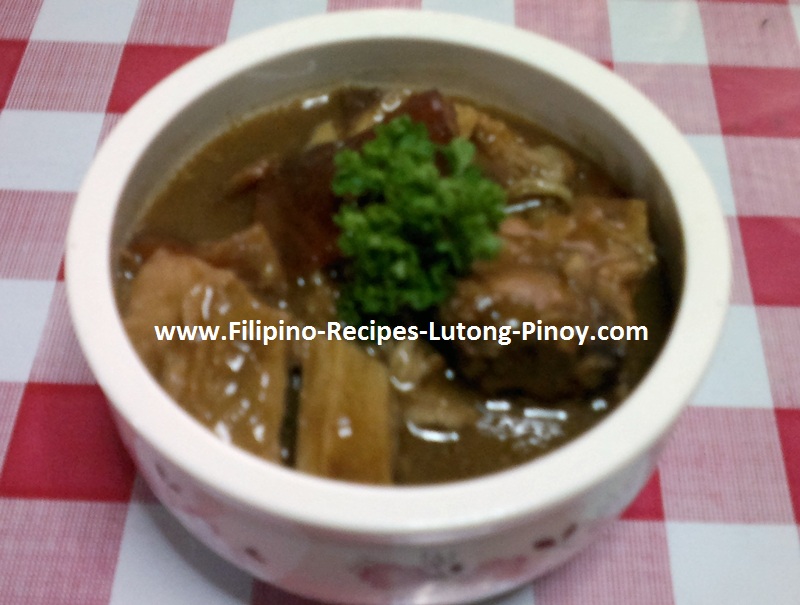 If you like the recipe you just found, please share it... 
---
Follow us on Social Media

What Do You Think About this Recipe? Anything You Want to Share?
Share it!