Lumpia Shanghai
(Spring Rolls)
Lumpia Shanghai
(Spring Rolls)

Another popular dish in the Philippines which originated from China is the Lumpia Shanghai or popularly known in other countries as Spring Rolls.  Both the fresh and fried version of this recipe was introduced to this country by the immigrants from the Chinese province of Fujian.  

This fried version of the Lumpia is full of meat, either ground beef or pork, spices, carrots and minced onion. The combined ingredients are bound together by beaten egg. This is best served with sweet and sour sauce, with some people preferring the spicy variety of sauce or with banana catsup. It is typically around an inch in diameter and between 4 to 6 inches in length.

This dish is very commonly served during feasts and celebrations and is also very good as a finger food.  You can prepare this in advance and store the uncooked Lumpia in the freezer for weeks until they are ready for cooking.

This recipe requires the ground meat to be raw before frying. Some recipes call for the meat to be cooked first before they are wrapped.

Preparation Time:  1 hour
Cooking time:   20 minutes
Yield:   6-8 servings
Ingredients:
2 lbs ground pork or beef
1 egg
1 cup onion, finely chopped
1 cup carrots, grated
½ cup green onions
2 tsp pepper
1 tbsp garlic powder
1 tsp salt    
2 tsp soy sauce
cooking oil for fying
lumpia wrappers
Cooking Directions:
1.    In a large mixing bowl, mix the ground meat, carrots, onions and egg. Combine all the ingredients thoroughly. Slowly blend in the green onions, soy sauce, garlic powder, salt and pepper. Make sure that they are evenly distributed in the mixture.
2.    Wrap the meat mixture using the lumpia wrappers. Lay them out one at a time on a flat surface, and put around 2 tbsp of the meat filling in a line around the middle of the wrapper.
3.    Take the top and bottom edges of the wrapper and fold them towards the middle. Take the right and left sides as well, and fold them towards the middle. To seal the lumpia, moisten one of the edges with water.  
4.    Fry the wrapped lumpia for about 3 to 4 minutes, ensuring that both sides are cooked well. You can tell that it is cooked when the wrapper turns golden brown.
5.    Transfer to a plate lined with paper towel. Serve with your favorite dipping sauce.
6.    Enjoy!

Lumpia Shanghai (Spring Rolls)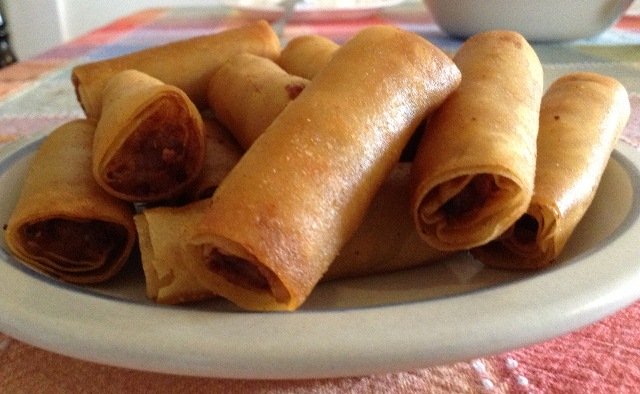 If you like the recipe you just found, please share it... 
---
Follow us on Social Media

What Do You Think About this Recipe? Anything You Want to Share?
Share it!