Inihaw na Bangus
(Grilled Milkfish)

INIHAW NA BANGUS (GRILLED MILKFISH)

Aside from pork, beef and chicken, our other source of protein is fish and the Philippines is blessed with a plentiful supply. Unlike other cultures, like the Americans, who fillet their fish, we eat our fish from head to tail and enjoy the experience by eating with our bare hands.

Bangus or milkfish, our national fish, is in abundance in the country. It is grown in fish ponds and is very affordable. To those who are not familiar with it, this meaty white fish might be a turn-off because it is bonier compared to the other varieties. It can have as many as 300 pin bones throughout its flesh. In spite of that, we Filipinos love our Bangus and the different dishes that go with it. The easiest way of cooking bangus is frying it. Marinating it in vinegar and Garlic is called Daing na Bngus, while Tinapa na Bangus is salted and smoked. Paksiw na Bangus is stewing it in vinegar.

Inihaw na Bangus is a popular dish, and is also served as a pulutan, an appetizer taken with alcoholic beverages. It is grilled with stuffing made of spices, and then wrapped in aluminum foil to aid in the cooking process. The fish is a little burnt on the outside but very juicy inside. This goes best with a dipping sauce made of calamansi juice (local lemon), vinegar, garlic, soy sauce and chilies.

Preparation Time: 30 mins
Cooking Time: 30-40 mins
Yield: 2-4 servings

Ingredients:
1 whole milkfish
2 pcs medium tomatoes, diced
1 large onion, chopped
5 cloves garlic, chopped
1 thumb size ginger, chopped
2 pcs siling labuyo, chopped
2 tsp salt
2 tsp pepper
Cooking Directions:
1. Prepare the stuffing by mixing the tomatoes, onion, garlic, ginger, siling labuyo, salt and pepper in a bowl. Set it aside. If you don't want it too spicy, you can put the siling labuyo whole in the fish.
2. Remove the innards and gills of the fish but keep the scales on so that the skin won't stick to the grill. Rub salt and pepper on the skin and set it aside.
3. Slit the side of the fish and stuff the cavity with the mixture. Put a little pressure to flatten it, and make sure the stuffing does not spill out.
4. Heat up the grill. Wrap the fish in aluminum foil.
5. Cook for about 15 to 20 minutes on each side.
6. Serve hot with your favorite dipping sauce.
7. Enjoy!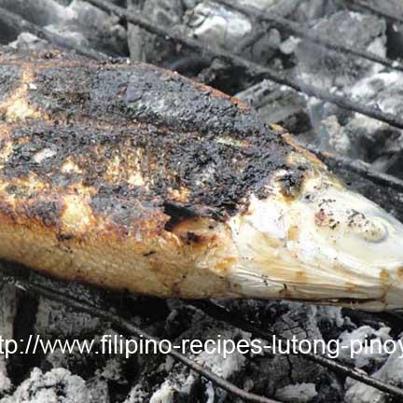 If you like the recipe you just found, please share it... 
---
Follow us on Social Media

What Do You Think About this Recipe? Anything You Want to Share?
Share it!