Sizzling Tangigue
(Grilled Spanish Mackerel)
Sizzling Tangigue
(Grilled Spanish Mackerel)

At the time of this writing, Holy Week just ended, and that means a big welcome to pork and other meat products in my diet. But that's not the case. I love fish and I know a lot, if not a majority, of Filipinos do. For this post, the fish recipe is Sizzling Tangigue or Grilled Spanish Mackerel. This type of fish belongs to the mackerel family and is one of the tastiest. It is not only delicious but healthy as well because it is a rich source of Omega-3 fatty acids. It could be easily filleted and is sold as steaks or fillets.

Aside from grilling, this fish can also be baked, steamed, fried, broiled, smoked or poached. This very abundant fish is similar to tuna and salmon because it is sold as a thick steak, but is milder in taste. When cooking this dish, the fish should be treated just like any other fish steak on the grill. You could grill it over hot coals or gas grill.

This very tasty fish recipe can be prepared very easily in a short period of time. The fillets are marinated in lemon juice, salt, pepper and other seasonings to bring out its flavor. After marinating it for about half an hour, it is then brushed with oil before grilling. As it cooks, the flesh will turn opaque. If you have a meat thermometer, the recommended internal temperature is 145 F to make sure that it is thoroughly cooked.   

Sizzling Tangigue is best when served with either steamed rice or fried rice. Here is the recipe and hope you enjoy it like I did.

Preparation Time:   40 minutes
Cooking Time:  15 minutes
Yield:   2 servings
Ingredients:
2 pcs tangigue steaks
1 tbsp lemon juice or calamansi juice
1 clove garlic, minced
1 tsp salt
1 tsp pepper
½ tbsp butter or margarine
Cooking Directions:
1.  In a large mixing bowl, combine together the minced garlic, lemon juice or calamansi juice, salt and pepper.
2.  Add the tangigue steaks and leave in the refrigerator for at least 30 minutes to marinate. Turn the steaks occasionally.
3.  Brush butter or margarine on the grill to prevent the steaks from sticking.
4.  Cook the steaks for about 5 minutes on every side or until they are cooked thoroughly.
5.  Transfer to a serving plate and serve immediately. You can add some garnishing and serve with your favorite dipping sauce.
6.  Enjoy!

Sizzling Tangigue (Grilled Spanish Mackerel)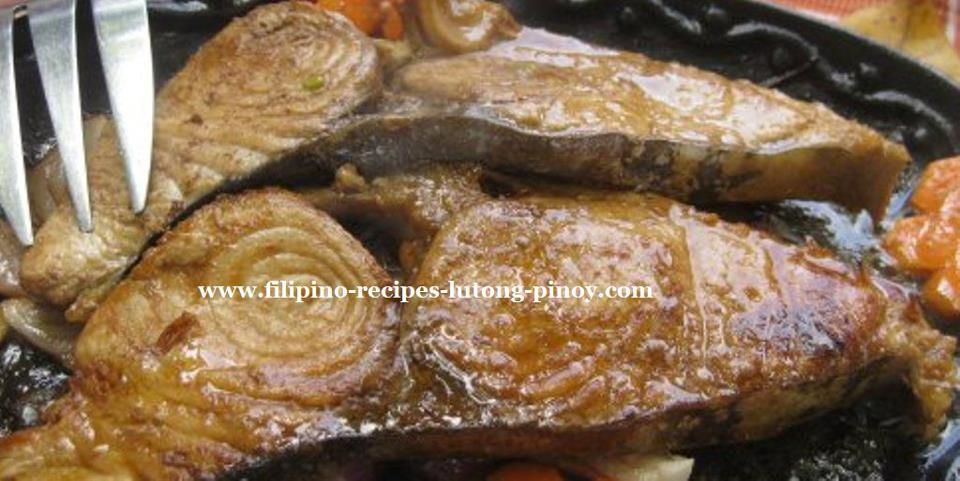 If you like the recipe you just found, please share it... 
---
Follow us on Social Media

What Do You Think About this Recipe? Anything You Want to Share?
Share it!