Siomai
(Pork Dumpling)
Siomai (Pork Dumpling)

Among the many Chinese dishes that is now part of the Filipino cuisine, the Siomai has made its way to the hearts of Filipinos. This traditional Chinese dumpling is also called Pork and Shrimp Dumplings, and served in dim sums. In the dialect, it is called Siyomay.

It is often made of ground pork, shrimps, beef and vegetables like carrots, green peas, water chestnuts, mushrooms and the like. They are wrapped in wonton wrappers, and are either steamed or fried. Frying it makes the outer part crispy. It is traditionally dipped in squeezed calamansi juice (a local lemon), and soy sauce. For the heat seekers, they dip it in an oil and spicy garlic mix.

It is often served in Chinese restaurants, eateries, food carts and stalls all over the country. Presently, there are several variations of this dumpling but the basic ingredient is always pork. There should be a little amount of fat in the ground meat so as not to make it too tough.

As long as you have a steamer, you can prepare your own homemade dumpling. Among the common variations are Beef, Fish and Chicken Siomai.

Preparation Time: 15 mins
Cooking Time: 50 mins
Yield: 12 servings

Ingredients:
1 kg ground pork
1 pack wonton wrapper
10 large shrimps, chopped
1 egg
1 cup carrots, chopped
1 large onion, minced
1/3 cup singkamas (turnip), minced
¼ cup celery
¼ cup scallions, chopped
5 tbsp sesame oil
2 tsp salt
1 tbsp pepper
Cooking Directions:
1. Beat the egg and mix all of the ingredients, excluding the wonton wrappers, in a large bowl. For best results and in order for all of the ingredients to be distributed evenly, use your bare hands in mixing.
2. Using a spoon, scoop a mixture into the wonton wrapper. Make sure it is formed well, and that it can sit on its own. To save energy and time, prepare as many as you can so they can all be steamed at one time.
3. Pour around a liter of water in the steamer, and bring to a boil. Place them on top, and let them cook for 15 to 25 minutes. Cooking time will depend on how big the pieces are. The larger they are, the longer the cooking time will be. Try not to overcook them, or else the wrapper will stick on the plates of the steamer.
4. Serve hot and ready for dipping in your favorite sauce.
5. Enjoy!
Siomai (Pork and Shrimp Dumpling)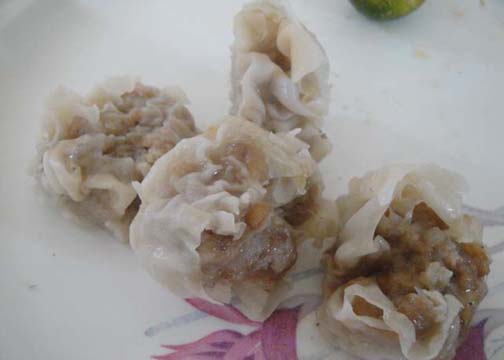 If you like the recipe you just found, please share it... 
---
Follow us on Social Media

What Do You Think About this Recipe? Anything You Want to Share?
Share it!