Halo-halo
Halo-halo

If you have been to the Philippines during the summer time, you know how scorching hot and humid it can get. Nothing can seem to alleviate the hotness than a tall glass of Halo-halo. From the Tagalog word meaning "mix", this cold and sweet dessert concoction combines evaporated milk and shaved ice with different kinds of sweet preserved beans, treats and fruits that are in season.
The ingredients are arranged and layered in a certain way that it looks like an explosion of colors in different hues. At the bottom are the beans, kaong (sugar palm fruit), garbanzos (chickpea), nata de coco (coconut gel) and fruits like saba (sweetened plantains), jackfruit, ube (sweet yam) and macapuno (coconut meat). It is then topped with shaved ice, and either pinipig (pounded dried rice), leche flan (milk flan), sugar or ice cream. When it is ready to be served, evaporated milk is poured on top of the mixture. Do not be overwhelmed with the ingredient list because eventually, it is all up to you, on what you want to put in there.

Before the advent of malls, this treat was peddled along the streets during the summer months. Nowadays, you can have a taste of this yummy concoction all throughout the year.

This dessert really showcases tropical goodness because of the variety of ingredients. Of course, you don't need to have all these ingredients all together. You can substitute with whatever fruit is in season or omit some because it really doesn't matter because it is guaranteed to be creamy and filling.

You better try this recipe because for us Filipinos, just the mere mention of this delicacy makes us salivate and crave for this heavenly treat that is like no other.

Preparation Time:   20 minutes
Yield:   1 serving
Ingredients:
2 tbsp haleyang ube (purple yam), cubed
2 tbsp jackfruit, cut into strips
2 tbsp sweetened saba (plantain), sliced
2 tbsp macapuno (coconut meat)
2 tbsp sweetened kidney beans
2 tbsp sweetened garbanzos (chickpeas)
2 tbsp kaong (sugar palm fruit)
½ cup shaved ice
1/2 cup evaporated milk
2 tbsp leche flan (milk flan), cubed

Cooking Directions:
1.    In a tall glass, add the ingredients layer by layer starting with the chickpeas, kidney beans, kaong, macapuno, ube, jackfruit and saba.
2.    Add the shaved ice on top.
3.    Pour the evaporated milk over the shaved ice. Top with the leche flan and scoop of ice cream.
4.    Enjoy!

Halo-halo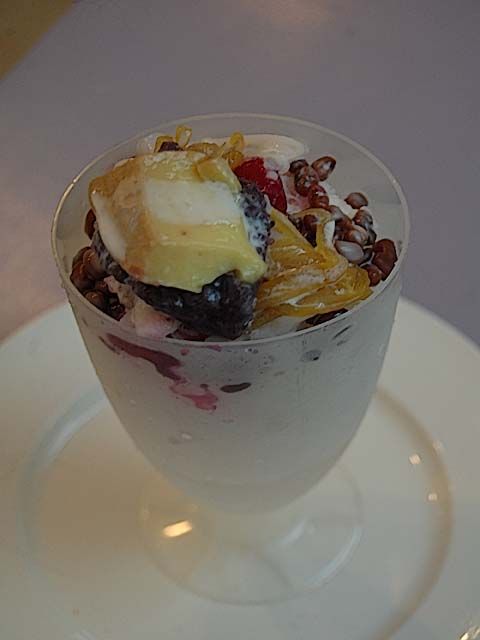 If you like the recipe you just found, please share it... 
---
Follow us on Social Media

************************************************************
You might like our other Dessert Filipino Recipes .....
************************************************************
You might like our other Kakanin Filipino Recipes 
What Do You Think About this Recipe? Anything You Want to Share?
Share it!