Sisig Filipino Recipe

(This one is my uncle's very own version of Sisig!)
Sisig Filipino Recipe

Sisig is one of the best side dish when drinking beer or "pulutan" in the Philippines.

This dish was created by Lucia Cunanan, Originally from Angeles City, Pampanga which known as The Sisig capital of the Philippines.
It is made from parts of pig's head (cheeks, ears and tongue) and liver, seasoned with salt, pepper, calamansi and chili peppers and served in a flame proof plate.
Preparation time: 30 minutes
Cooking time: 2 hours
Total time: 2 hours and 30 minutes
Yield: 6 servings

Sisig Filipino Recipe (my uncle's very own version of Sisig!)

Ingredients

1 lb pork cheeks
1/2 lbs pig ears
1 /2 lbs pork tongue
1/4 cup chicken liver, minced
1/4 cup pork liver, minced
1 tbsp lemon grass (soft part only), chopped
1 medium onion, minced
1 tbsp spring onions
3 tbsp soy sauce
1 tbsp worcestershire sauce
1 tbsp oyster sauce
Juice of 1 orange
Juice of half lime
2 tbsp red chili pepper
2 tbsp unsalted butter
Salt and pepper, as needed

Cooking Direction:
1. Combine the soy sauce, worcestershire sauce, oyster sauce, orange juice and lemon juice. Put in the refrigerator until needed.
2. In a large pot over a high heat, pour the water with salt and bring to a boil, add the pork cheeks, ears, and pork tongue. Let it simmer for about 1 to 1 1/2 hour until tender. Drain and transfer to a large mixing bowl.
3. Prepare the grill, grill the boiled ingredients to clean or remove any excess hair. Let it cool
4. Cut the grilled pork cheeks, ears and tongue into small bites.
5. Melt the butter with 1 tbsp of oil in a large pan over a medium heat, add the onion, and cook until translucent. Add the lemon grass and sauté for about 2 minutes. Add the chicken and pork liver stirring constantly.
6. Add the chopped pork cheeks, ears and tongue cook for about 15 minutes. Pour-in the soy sauce mixture and season with salt and pepper. Stir-in the red chili and transfer to a large bowl.
7. Heat the oiled sizzling plate over the flame until smoking temperature, transfer or put the plate into a wood holder, Add a little bit of butter into the plate and add the Sisig. Top with egg and serve with rice.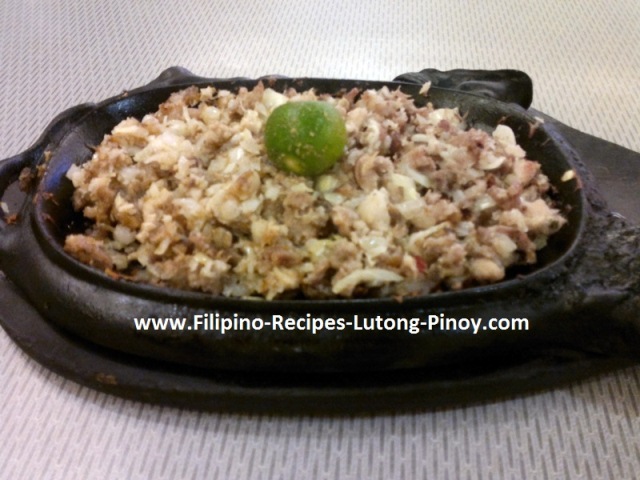 Try the other version of
You Might Also Be Interested to Look at these Recipes
GO BACK TO HOME PAGE

If you like the recipe you just found, please share it... 
---
Follow us on Social Media

What Do You Think About this Recipe? Anything You Want to Share?
Share it!