Maja Blanca
(Coconut Pudding)

Maja Blanca
(Coconut Pudding)


To satisfy our sweet tooth, we Filipinos are known to be dessert lovers with our wide array of native delicacies and sweet concoctions. These sweet treats are served in every possible occasion and event – fiestas, parties, get-togethers, holidays, or even just for snacking on a lazy afternoon. One of the most popular desserts and a staple during most gatherings is the Maja Blanca or Coconut Pudding.

This dessert was adapted from a traditional holiday dessert in Spain called manjar blanco, meaning white delicacy. It usually has a creamy white color, and its consistency is similar to a thick gelatin.

It is primarily made from coconut milk. This easy to prepare dessert combines the coconut milk and cornstarch mixture which is brought to a boil over a low flame. Constant stirring is required. As the recipe evolved, milk, sugar and corn kernels have been added. These ingredients though are not part of the traditional recipe. The thickened mixture is then poured into greased serving dishes. It is then allowed to cool down and refrigerated for at least an hour to firm up and improve its texture.

Presently, there are several variations of this dessert like Squash Maja Blanca, Maja Maiz (yellow in color) and Maja Ube (deep purple in color).

For this recipe, corn kernels and condensed milk are added to make it more rich, sweet and creamy.

Preparation and Cooking Time: 20 minutes
Yield: 8 servings

Ingredients:
2 cans coconut milk
½ cup granulated sugar
14 oz condensed milk
1 can sweet corn kernels
14 oz evaporated milk
½ cup cornstarch
1/3 cup toasted grated coconut or grated peanuts

Cooking Directions:
1. In a bowl, dissolve the cornstarch in 1 cup water and make sure that it is fully diluted. Set aside.
2. Heat a large pot in medium heat, pour all of the coconut milk, condensed milk, sugar, evaporated milk and corn kernels. Stir occasionally and bring to a boil. Stir until all the ingredients are mixed thoroughly and evenly. Let it simmer for around 8 minutes.
3. Add the cornstarch mixture in the pot. Stir thoroughly. Continue stirring until it is cooked and has reached your desired consistency and thickness.
4. Remove from heat and pour the mixture in a serving dish. With a spatula or any flat utensil, flatten the top.
5. Allow it to cool and put in the refrigerator for at least an hour.
6. Top it with the toasted grated coconut or peanuts. Latik (browned coconut cream curds) can also be sprinkled as topping for garnishing. Serve it cold.
7. Enjoy!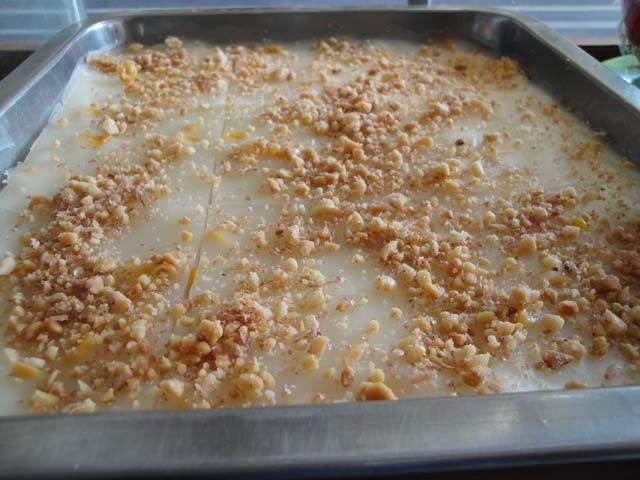 If you like the recipe you just found, please share it... 
---
Follow us on Social Media

************************************************************
You might like our other Kakanin Filipino Recipes 
What Do You Think About this Recipe? Anything You Want to Share?
Share it!