Mongolian Beef Recipe
Mongolian Beef Recipe

Craving for something sweet and spicy? Ever tried the dish called Mongolian Beef? This Chinese dish is not really as popular to the Filipino palate compared to the other known recipes that has Chinese influence. The name itself is misleading because none of the cooking method or ingredients has anything to do with the country of Mongolia.

This dish is commonly served in Chinese restaurants all over the world. The beef cut that it commonly used is the flank steak. It is stir-fried and combined with a sauce that is made of chili peppers, hoisin sauce and soy sauce. It is also served as a topping to steamed rice or crispy fried bean thread noodles.

Preparing Mongolian Beef may seem complicated, but it actually isn't. The preparation time and the actual cooking time may take less than half an hour. Another good thing about this recipe is that it is a one pot dish. No need to use a couple of pots or pans to whip up this tasty delight. You can also control the thickness of the sauce, according to your preference. The longer you cook the sauce, the thicker it will get.
 
Give this recipe a try and you might learn to love it.  

Preparation Time:   10 minutes
Cooking Time:   20-30 minutes
Yield:   2 servings
Ingredients:
1 lb flank steak, thinly sliced crosswise
2 tbsp cornstarch
1/3 cup water
2 tbsp rice wine
2 tbsp soy sauce
3 cloves garlic, minced
1 tbsp hoisin sauce
2 tbsp sesame oil
½ tsp salt
½ tsp pepper
½ tsp red pepper flakes (optional)
4 large green onions, sliced crosswise
Cooking Directions:
1.    First, prepare the sauce by mixing together the cornstarch, water, rice wine, soy sauce, hoisin sauce, sesame oil, pepper and red pepper flakes in a bowl. Set aside.
2.    Heat the oil in a wok or a large pan and sauté the garlic.
3.    Add the beef in batches and stir fry for about 2 to 3 minutes or until they are browned and done.
4.    Pour the sauce mixture in the wok or pan. Stir and allow it to cook for a couple of minutes along with the meat until it thickens up. You can further reduce it to make it thicker or keep it thinner.
5.    Add the green onions about a minute before turning the heat off.
6.    Serve hot with steamed rice. Garnish with the green parts of the onion.
7.    Enjoy!

Mongolian Beef Recipe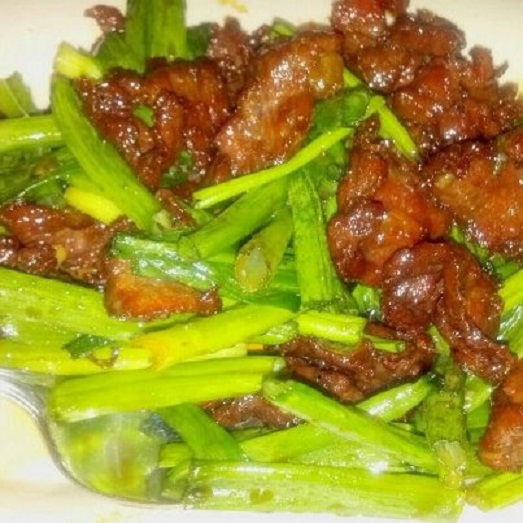 If you like the recipe you just found, please share it... 
---
Follow us on Social Media

What Do You Think About this Recipe? Anything You Want to Share?
Share it!