Ginataang Puso ng Saging
(Banana Heart Blossom Stewed in Coconut Milk)

| | |
| --- | --- |
| Ginataang puso ng saging is a dish from the Bicol provinces where the main ingredient puso ng saging or in English, banana heart is cooked in coconut milk or cream. | |
If you're wondering banana heart, what's that and why a heart? It's the part of the banana that is shape almost like a heart and red in color. This so called heart is composed of layers coverings with the banana blossoms that become fruits, in between. That heart is eaten as vegetable here in the Philippines and some Asian countries. I sautéed them, made in soup and stewed in coconut milk is my preferred dish. But you must remember, cooking banana heart requires tedious work for preparation. Slicing them crosswise thinly to form rings is quite a lot of task. Then removing the sap and bitterness is also part of preparation. But don't worry, I'll guarantee that it's worth the task. And the cooking process is fairly simple, stewed them in coconut milk with garlic. Then add the extra ingredient, it can be pork belly, Spanish mackerel and my ideal addition is dried surgeonfish (daing na labahita) for its tasty seafood taste. There are actually a lot of vegetables that can be cooked in coconut milk and ginataang puso ng saging is one of the best. This recipe is from a Bicolano I know and I never compromise it, so the recipe is authentic. It doesn't require the elaborate sautéing and cooking that most people have invented.

Number of servings (yield): 6
Preparation time: 20 minutes
Cooking time: 25-30 minutes
Cooking Ingredients:
• Banana heart (puso ng saging) – 2 pcs (sliced into rings)
• Dried surgeonfish (Daing na labahita) – 3 pcs
• Coconut milk – 4 cups
• Garlic – 6 cloves (crushed)
• Salt – to taste
• Fish sauce – to taste

Cooking Direction:
1. Remove the outer covering and the blossom accompanying it in the banana heart. These maroon colored coverings are tough and leathery; they won't cook no matter how long. Usually, it takes 3 to 4 layers to reach the nice and smooth color.
2. Cut crosswise at about 1/4 inch thin rings. Add 2 teaspoon of salt and mix by hand. Squeeze out the bitter juice and sap from the banana heart rings.
3. Soak the dried surgeonfish in water to decrease the salt content of the fish.
4. Pour 3 cups of coconut milk in a cooking pot. Add the crushed garlic and a bit of salt. Simmer over medium-low heat while stirring gently.
5. When the coconut milk is almost boiling, add the banana heart rings. Mix so that everything is soaked in coconut milk.
6. Simmer for 10 to 20 minutes until the banana heart rings are tender. If the liquid is not enough, add the last cup of coconut milk. Stir once or twice gently.
7. For the time being, drain dried surgeonfish and rinse with water. Remove and discard the skin and tear the flesh into small bite size pieces.
8. Add the dried surgeon fish to the pot and stir. Modify the taste using salt or fish sauce
9. Simmer for 2 minutes more until the banana heart rings are done.
10. Turn off the heat. Place in a bowl and serve with steamed rice.
11. Share and enjoy eating.

Tip:
• Use pork belly or half-cooked fried Spanish mackerel (tanigue) fish in place of dried surgeonfish, they are other versions.
• Chopped chili adds a spicy flavor if you want hot and spicy.
Note:
• Nowadays, somewhere around the globe there is sold canned banana heart. If you're using that skip step 1 and proceed to step 2 but be sure to rinse it first before cutting.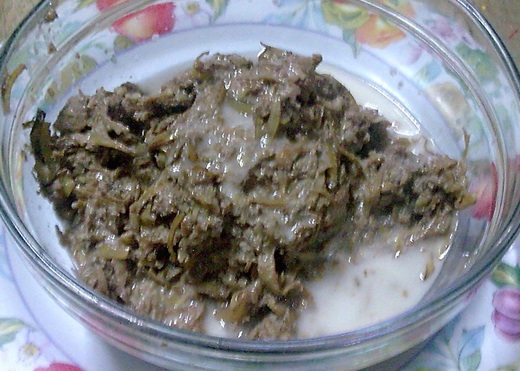 Ginataang Puso ng Saging

If you like the recipe you just found, please share it... 
---
Follow us on Social Media

What Do You Think About this Recipe? Anything You Want to Share?
Share it!