Palitaw
Filipino Recipe
Palitaw Filipino Recipe

Snack time or dessert in the Philippines is not complete without something sweet like a kakanin (native delicacy), and one of them is the Palitaw. The word comes from "litaw" which is a Tagalog term which literally means to float or to surface. This sweet treat that is popular in the country is made from malagkit (sticky rice). It is first washed, then soaked overnight in water, then ground in a gilingan (heavy stone grinder). The same dough is used in making Bilo-bilo and Bibingka.
The sticky and soft dumpling, flattened and shaped like discs, is dropped in boiling water. After about a minute, they will rise to the surface which indicates that they are done. It is that simple! To add flavor, it is dipped in grated coconut, and then dipped in either toasted sesame seeds or sugar or a mixture of both.

This flat and small but definitely sweet rice cake is popularly sold in markets and along the streets. It is truly the quickest and easiest rice cake to prepare. The Palitaw is commonly arranged in bamboo baskets lined with banana leaves along with the other treats like Kutsinta, Puto, Suman, Biko, etc., or wrapped in plastic in styrofoam trays.

You surely can't resist these chewy and soft dumplings, and its tasteful coating of coconut, and the nutty and rich flavor of the toasted sesame seeds. Why don't you give this treat a try and be amazed at this sweet little delicacy? It is truly finger-licking good, and you will be grabbing for more and more. Enjoy this Palitaw Filipino Recipe!

Preparation Time: 5 mins
Cooking Time: 10 mins
Yield: 2 servings

Ingredients:
2 cups glutinous flour
1 cup water
½ cup granulated sugar
1 cup grated coconut
½ cup sesame seeds, toasted
Cooking Directions:
• Mix together the glutinous rice flour and water until you have formed a dough.
• Form them into balls with 2 tablespoon of the dough, and with the palm of your hands, flatten them into small ovals
• Boil the water in the pot, and then drop the flattened dough in the pot two at a time.
• When they start to float to the surface, about 30 seconds to a minute, remove them. Drain the water out, and then set aside. Let them cool off and dry out.
• Mix the toasted sesame seeds and sugar.
• Roll the rice cakes in the grated coconut first, and then in the sesame seeds and sugar mixture.
• Serve cold on a plate.
• Enjoy!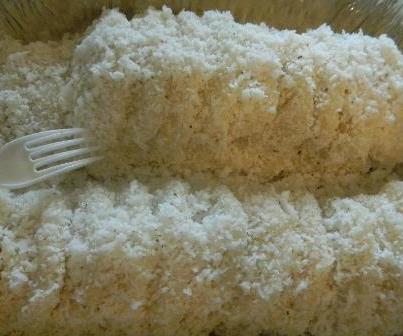 If you like the recipe you just found, please share it... 
---
Follow us on Social Media

What Do You Think About this Recipe? Anything You Want to Share?
Share it!