Lechon Kawali
Filipino Recipe
Lechon Kawali
Filipino Recipe

Lechon is undoubtedly one of the most popular dishes in the Philippines. From our Spanish heritage, we have learned to love this roasted suckling pig. The whole pig is skewered in a stick, the entrails removed, and roasted over a pit filled with charcoal. It is traditionally served during large gatherings and parties, and they are definitely not complete without the juicy meat and crispy skin of the Lechon.

Lechon Kawali is the simpler and easier variation of the Lechon. While cooking Lechon is a huge feat to pull off and requires a lot of hours, the Lechon Kawali is quicker and easier to prepare and tastes as delicious. It can easily be cooked at home and doesn't require a pit.

The pork belly is the preferred meat for this dish. It is deep fried in a kawali, the Filipino version of the deep frying pan or wok. It is slow cooked in water first to make the meat real tender and juicy. The next step is deep frying it to achieve its crispiness, and then cutting them in strips. It is usually dipped in a sauce made of soy sauce and vinegar plus a little calamansi, a local lemon. Some people also prefer dipping it in lechon sauce.

This dish is best served with warm steamed rice, and can also be a good pulutan or appetizer. Enjoy this Lechon Kawali Filipino Recipe.

Preparation Time: 10 minutes
Cooking Time: 1 hour
Yield: 4-6 servings
Ingredients:
1 kilo pork belly
5 cups cooking oil for deep frying
2 tbsp sea salt
water
3 pcs dried bay leaves
2 tbsp whole peppercorn
3 cloves garlic, crushed
Cooking Directions:
1. If possible, select a pork belly that has even distribution of fat and meat. Preferably, the thickness of the meat should not be more than 1½ inches.
2. In a large pot, add the water, pork belly, dried bay leaves, garlic, peppercorn and half of the sea salt.. Make sure the pork is completely covered with water. Bring it to a boil and let it simmer for around 30 minutes to an hour. The meat should be very tender.
3. Remove the pork from the pot and let it drain. Allow it to cool and dry off.
4. Spread the rest of the sea salt evenly on all sides of the meat.
5. Heat up the oil and deep fry the meat it with the skin down for 20 to 30 minutes on each side at low temperature.
6. Remove from the pan and transfer to a plate lined with paper towel to remove the excess oil. Let it cool off before slicing into cubes.
7. If you want the meat to be crispier, deep fry the cubes once more for about 5 minutes. Serve hot with your favorite dipping sauce.
8. Enjoy!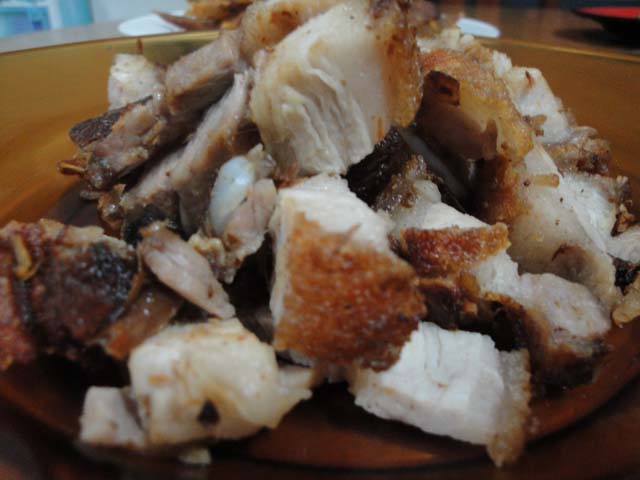 If you like the recipe you just found, please share it... 
---
Follow us on Social Media

What Do You Think About this Recipe? Anything You Want to Share?
Share it!