How to Make Meatballs
(Bola-Bola)
How to Make Meatballs
(Bola-Bola)

Almost all cuisines have their own version of the traditional Meatball that it has become a staple. Meatballs are basically made from ground meat, like pork or beef, and rolled and shaped into small balls. Mixed along with the meat are minced onion, bread crumbs, spices, herbs and eggs. They are usually prepared by hand. The common methods of cooking Meatballs are baking, frying, steaming or braising in sauce. The cooked Meatballs are also added in soups and pasta dishes like Spaghetti. This just shows the versatility of this dish because you could add your ingredients according to your preference and whim.

In the Philippines, we call Meatballs as Bola-bola. Our most common ingredients are ground beef or pork, and either eggs, all-purpose flour or bread crumbs as binder. The most common way of cooking Meatballs is by frying. As a soup ingredient, it is served with Misua (rice vermicelli) along with squash, toasted garlic and pork cracklings. Sweet and Sour Bola-bola and Meatball Spaghetti are also popular among Filipinos. We also add vegetables to serve as extenders for the dish like singkamas (turnip) or carrots. They are best served with a homemade dipping sauce or plain catsup.

So the next time you are looking for a main dish or appetizer, try this Filipino version of how to make Meatballs, and you won't regret it.

Preparation Time: 10 mins
Cooking Time: 20 mins
Yield: 4-6 servings

Ingredients:
½ kilo ground pork
½ ground beef
1 tbsp garlic, minced
1 medium onion, chopped finely
½ cup bread crumbs or ¼ cup all-purpose flour
3 eggs, beaten
1 tsp pepper
1 tbsp salt
cooking oil
Cooking Directions:
1. In a large bowl, mix together the meats with your bare hands. Add the onion, garlic, bread crumbs, eggs, salt and pepper. Blend them all with your hands.
2. Form the mixture into balls with around 1" in diameter. You can use an ice cream scooper for uniformity in weight and size.
3. Roll the balls lightly but not too tight to keep it from getting dry inside and getting dense.
4. Heat the oil and gently drop the meatballs in the pan. Deep fry the meatballs in batches until they turn golden brown. Make sure they are close but not touching each other.
5. Transfer to a plate lined with paper towel to remove the excess oil.
6. Serve with rice and your favorite dipping sauce like catsup or sweet and sour sauce.
7. Enjoy!

How to Make Meatballs (Bola-bola)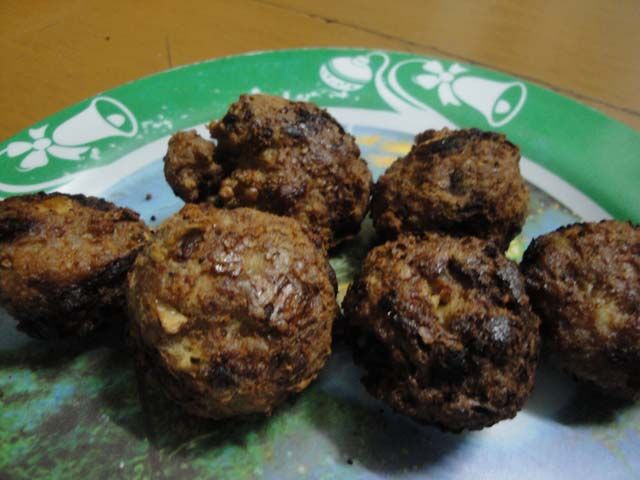 If you like the recipe you just found, please share it... 
---
Follow us on Social Media

************************************************************
You might like our other Beef Filipino Recipes .....
What Do You Think About this Recipe? Anything You Want to Share?
Share it!