Morcon
Filipino Recipe

Morcon Filipino Recipe
Celebrations and holidays are a big part of the Filipino culture. It is the time when we socialize with long lost family and friends from near and far.

The heart of the celebrations would be a table laden with a sumptuous feast with the lechon being the centerpiece. May it be the big holiday feasts, like Christmas Noche Buena or New Year's Media Noche, to town fiestas or birthday parties, the food just overflow. There is also bound to be one specialty dish for that region at the table. One of the specialty dishes is Morcon.

Morcon Filipino style is a type of beef roll similar to the French Roulade. It is usually stuffed with boiled eggs, hotdogs, sausages, pickles, cheese, strips of ham, chorizo de bilbao or practically anything that you want to stuff in it. They are arranged on the marinated meat so that you will get a bite of each in every slice. It is then secured tightly with a twine or string. The final step is simmering it usually in tomato sauce, but some people prefer the creamy white sauce. So here is the Morcon Filipino recipe.

Preparation Time: 30 mins
Cooking Time: 40 mins
Yield: 4-6 servings

Ingredients:
2 lbs flank steak, cut to ¼ inch thick
1 thick slice of ham, cut into strips
1 4" long chorizo de bilbao, cut into strips
2 hardboiled eggs, quartered
2 pcs pickled dill or sweet whole pickles, cut into strips
1/3 cup cheddar cheese, cut into strips
2 tbsp soy sauce
3 tbsp calamansi juice
1 can tomato sauce
1 medium onion, chopped
4 cloves garlic, minced
1 pc bay leaf
salt
pepper
cooking oil
string for tying
Cooking Directions:
1. Marinate the beef in soy sauce and calamansi juice for at least an hour.
2. Spread the meat on a flat surface and line up the filling: ham, pickles, eggs, cheese and chorizo along the length of the beef.
3. Roll the beef ensuring that the filling is intact. Using the string, tie it up.
4. Heat the oil and brown the meat on all sides. Set it aside.
5. Saute the onion and garlic in the same pan. Add the tomato sauce, bay leaf and beef.
6. Add water in the pan. Make sure the meat is covered, and allow it to boil.
7. Let it simmer for about 20 to 30 minutes or until the beef is tender.
8. Add salt and pepper.
9. Remove from the pan and cut the string. Slice the meat into individual portions. If desired, you can top it with the sauce.
10. Serve hot with steamed rice.
11. Enjoy your Morcon (Filipino recipe)!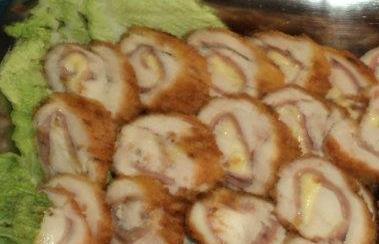 If you like the recipe you just found, please share it... 
---
Follow us on Social Media

What Do You Think About this Recipe? Anything You Want to Share?
Share it!