Turon
(Banana Spring Rolls)

Turon (Banana Spring Rolls)

Spring rolls come in a sweet form in the Philippines and goes by the name of Turon. It is also called Banana Lumpia or Lumpiyang Saging because it is also wrapped in spring roll wrappers similar to the savoury Lumpia. The name has its origin from the Spanish word Turron de Banana. It is made of thinly sliced bananas, with a strip of jackfruit, and with a dash of brown sugar.
The best type of banana that you can use is the saba. It is rolled in spring roll wrappers, and then deep fried crispy with caramelized sugar glaze. To add variety and flavor, mango, coconut, sweet potato and cheddar cheese can also be added as a filling.

It is commonly sold as a street food snack or dessert along with banana cue, maruya or camote cue. It is also served as a dessert after a meal. The jackfruit gives it a unique aroma and taste, while the sugar glaze gives it the crunch long after it has been fried. So it is best eaten when it is freshly cooked so you can savour the truly delightful and heavenly taste of what's inside the Turon. Be careful though, because it could be deceiving. The filling could still be hot while the outside has already cooled down a little bit.

Preparation Time: 5 mins
Cooking Time: 20 mins
Yield: 6 servings
Ingredients:
6 ripe bananas, cut lengthwise
12 spring roll wrappers
1 cup brown sugar
12 jackfruit strips
cooking oil
1 tsp cinnamon (optional)
Cooking Directions:
1. Detach the spring roll wrappers, and lay them on a flat surface.
2. Dip the banana in the sugar and cinnamon, and place it about 1 ½ inch from the bottom edge of the spring roll wrapper. Top it with a slice of jackfruit.
3. Fold the two sides towards the center, and then roll it up to the end. To seal it, dab a little water at the end.
4. Heat the oil in medium heat in a non-stick pan, so the sugar won't adhere to the pan.
5. Fry the wrapped bananas with the sealed end side down to avoid spilling in the pan. Cook until it turns golden brown and flip it over.
6. Fry the other side and sprinkle some sugar (about 1 tbsp per roll) onto the oil to glaze and caramelize the coating.
7. Remove from pan when it has turned golden brown. Lay them on paper towels to remove some of the extra oil. Serve them warm while the wrapper is still crunchy.
8. Enjoy!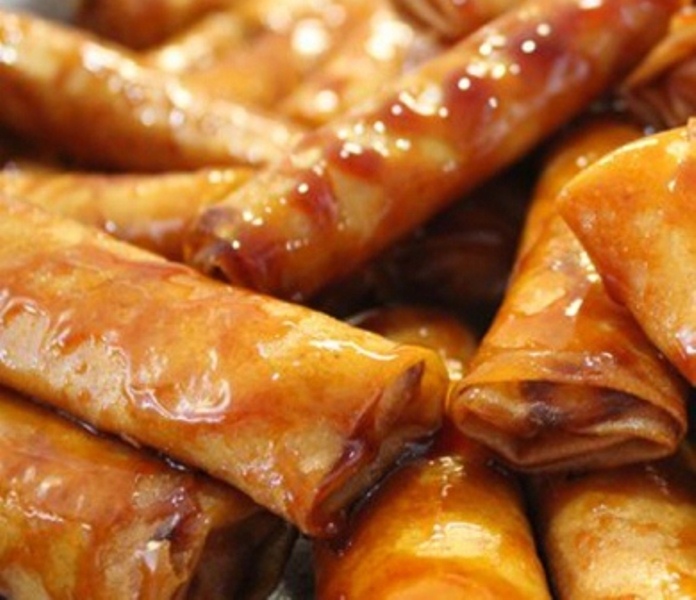 If you like the recipe you just found, please share it... 
---
Follow us on Social Media

************************************************************
You might like our other Dessert Filipino Recipes .....
What Do You Think About this Recipe? Anything You Want to Share?
Share it!