Fruit Salad Recipe
(Filipino Style)
Fruit Salad Recipe
(Filipino Style)

If you are looking for a dessert that is easy to prepare, sweet and delicious, then the Fruit Salad might just be the one for you. Almost all cuisines have their own version of this dish. Generally, it is made of various kinds of fruits and served in its own juice or syrup or with some other kind of sweetener. Aside from being a dessert, it can also be served as a side salad or appetizer.
In the Philippines, the Fruit Salad is considered a staple in all parties and gatherings. Aside from the fruits which typically come from canned fruit cocktail or whatever fresh fruit is in season, the addition of condensed milk and table cream, like Nestle Cream, makes it distinctly Filipino. It adds richness and creaminess and of course, sweetness.

The reason why this is very popular is because being a tropical country, the Philippines is so abundant in fruits. Native fruits like bananas, pineapple and buko (young coconut) are usually added along with nata de coco (fermented coconut water). There's really no limit to what you want to add to your Fruit Salad.

The good thing about this dessert is that it doesn't require cooking, just some mixing and chopping. You just need a little imagination, a chopping board and a can opener. This is not only best served during the summer time but whole year round because the ingredients are easy to find.

Preparation Time:   15 mins
Cooking Time:   none
Yield:   6 servings
Ingredients:
2 large cans (29 oz) fruit cocktail
1 can  (20 oz) pineapple tidbits
1 can (6 oz) Nestle cream
14 oz condensed milk
1 jar (12 oz) nata de coco
2 pcs apples, cubed with skin on (optional)
1 cup buko (young coconut), shredded (optional)
Cooking Directions:
1.    Drain the juice thoroughly from the fruit cocktail and pineapple tidbits. Let it stay in the strainer for at least 15 minutes to totally get rid of the liquid and to avoid getting soggy.
2.    Transfer the drained fruits in a large mixing bowl. Add the nata de coco, apples and buko and then mix lightly so that the fruits will keep their shape.
3.    Add the condensed milk and then the cream. Combine with the rest of the ingredients. Make sure that condensed milk and cream are evenly distributed among the fruits.
4.    Chill in the refrigerator for a couple of hours before serving.
5.    Enjoy!

Fruit Salad Recipe (Filipino Style)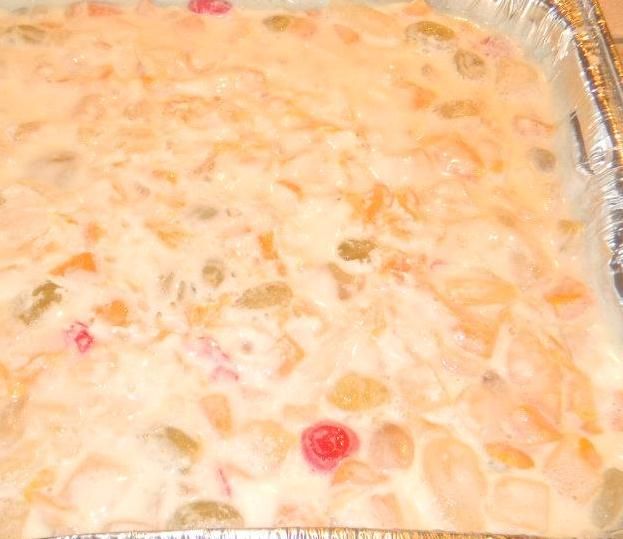 Fruit Salad Recipe Video
If you like the recipe you just found, please share it... 
---
Follow us on Social Media

************************************************************
You might like our other Dessert Filipino Recipes .....
What Do You Think About this Recipe? Anything You Want to Share?
Share it!