Ampalaya with Alamang - Sauteed Bitter Gourd Filipino Recipe
Ampalaya with Alamang - Sauteed Bitter Gourd with Salty Shrimp Relish (Alamang)

The aggregate of bitter flavour from the gourd and the salty taste of the shrimp relish (alamang) is a perfect treat for someone who has an inclination towards eating foods with a very strong kick.

If you are one of them, you should not miss in trying this recipe. However, if you despise the bitterness of gourd alone, I don't think you would really love this dish since the addition of the salty shrimp relish just intensifies the strong flavours. You can taste it, though to pacify your curiosity.
Below are the ingredients that you will need for cooking Ampalaya with Alamang:

1 piece of bitter gourd or ampalaya, split in half, sliced and de-seeded
1 piece of onion, diced
1 clove garlic, minced
1 piece tomato, sliced
½-1 teaspoon of salty shrimp relish (alamang)
1 tablespoon cooking oil
Handful of salt

Cooking Direction:
for Ampalaya with Alamang
1. Wash the bitter gourd and drain. Add the handful of salt, and then mix it manually. Rinse the salt off followed by squeezing the bitter gourd until the last drop of water comes out. This step is important in order to reduce the strong taste of the gourd. However, if you love its natural bitter taste, you can skip this step and just wash and drain the gourd, instead.
2. In a pan, sauté the onion, garlic and tomato over medium-high heat.
3. Add the bitter gourd and mix them altogether. Let it simmer for about 5 minutes.
4. Add the salty shrimp relish. Stir the mixture to distribute the spices evenly. Let it stay for 2-3 more minutes. You don't need to add salt anymore, or else you will have an explosion of bitter and salty flavours, which I'm sure you'll just loathe.
5. Serve it while it's hot.
Note: This recipe is good for 3-4 persons. If you find it too bitter, you can counteract it by adding a pinch of sugar at a time, and then taste if it's okay with you. If not, you can always add, but just one pinch every time you do it to avoid making it too sweet.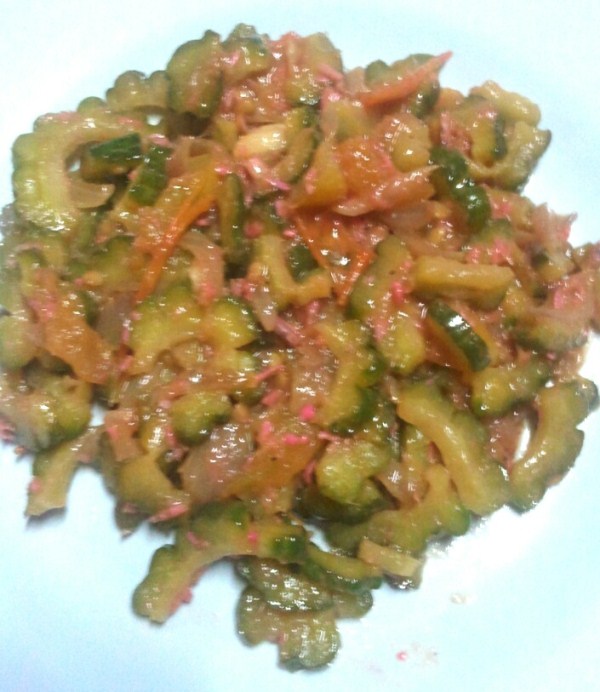 If you like the recipe you just found, please share it... 
---
Follow us on Social Media

What do you think about this recipe?
What's your thought about this recipe? Share it!