Pancit Bam-i
Pancit Bam-i

If you want to have long and productive life, then you better eat a noodle dish during your birthday. This may sound ridiculous to some people but to us Filipinos, it is taken very seriously. Some may say that it is just an old wives' tale or purely superstitious belief, but it won't hurt if you follow it, right? Part of the belief is not cutting the noodles.

So if you attend a birthday party in the Philippines, expect to be served a noodle dish. If it's a kid's birthday party, there should be Spaghetti and for the rest, it could be Pancit Canton, Pancit Miki, Pancit Bihon, etc. Basically, the type of noodle used differentiates one dish from the other.

One of the popular noodle dishes that originated in Cebu, a province south of the country, is the Pancit Bam-i. This part of the country is known for its delicious seafood dishes and the best Lechon (roasted pig) in the country. The ingredients used are practically the same as the other noodle dishes. The difference is the combination of sotanghon (bean thread or vermicelli noodles) and canton (flour noodles). The combination of these noodles gives it a unique and distinctive taste.

Preparation Time:   30-45 minutes
Cooking Time:   1 hour
Yield:   6-8 servings
Ingredients:
8 oz pancit canton noodles
10 oz sotanghon noodles
1 lb shrimp, peeled and deveined
2 pcs chicken breast, boiled and shredded
1/2 lb pork, sliced
4 pcs Chinese sausage, sliced
6 cloves garlic, minced
1 medium sized onion, diced
1 medium green bell pepper, sliced
1/2 cup carrots, julienned
2 cups cabbage, shredded
1/2 cup tenga ng daga (dried wood ear mushroom), soaked and chopped
1/4 cup soy sauce
1 cup chicken stock
salt
pepper
cooking oil
2 pcs. green onions (for garnishing)
Cooking Directions:
1.    Soak the sotanghon in water for a few minutes until it becomes soft. Cut into your desired length with scissors. Set aside.
2.    Saute the garlic and onions in a wok or large pan. Add the pork and cook for around 3 minutes. Add the Chinese sausage and cook for another 5 minutes, then add the chicken and shrimp.
3.    Pour in the chicken stock, salt, pepper and soy sauce. Bring to a boil and allow to simmer for 5 minnutes.
4.    Add the mushroom, carrots, cabbage and bell pepper. Cook for 2 minutes.
5.    Add the sotanghon and stir constantly for about 2 minutes. Add the canton noodles and cook for a few minutes.
6.    Transfer to a serving dish. Garnish with green onion and serve with calamansi.
7.    Enjoy!

Pancit Bam-i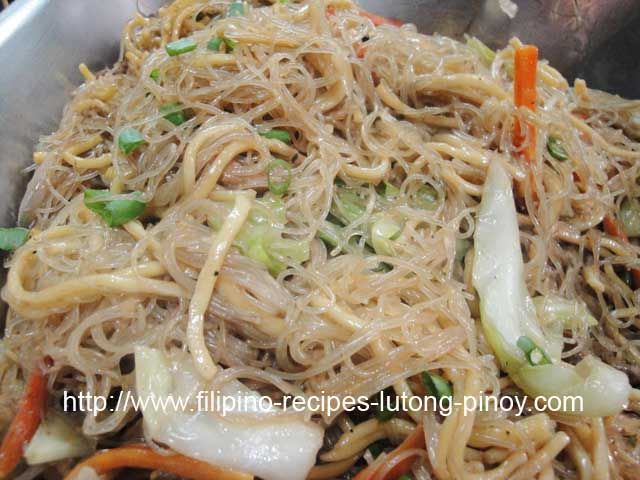 If you like the recipe you just found, please share it... 
---
Follow us on Social Media

What Do You Think About this Recipe? Anything You Want to Share?
Share it!