Bopis
Filipino Recipe

Bopis Filipino Recipe

Warning: This dish is not for the squeamish and faint of heart, and if you are a non-Filipino who thinks that eating the guts and internal organs of animals is so bizarre.

Bopis is derived from the Spanish word bopiz. It is a spicy and appetizing dish made from chopped pig's internal organs, particularly the lungs and heart. It is usually sautéed in chilies, tomatoes and onions.

The rest of the internal organs and pig parts like the brain, liver, face and ears are reserved for another dish called Sisig. As you can see, we Filipinos don't throw away any part of the animals that we eat. We can be very creative and innovative in our dish preparation using all the available ingredients at hand.

Bopis is usually served as a pulutan or an appetizer, and is best eaten with alcoholic drinks. Bopis is also served as a main or side dish, and is best eaten with steamed rice.

The recipe of this dish has evolved through the years, and just as in any dish, there are so many ways of preparing it. Aside from the pig parts, the basic ingredients for Bopis are garlic, onion and soy sauce. As a garnishing, green chili pepper is usually used.

Preparation Time: 10 minutes
Cooking Time: 1 hour
Yield: 8 servings
Ingredients:
½ kilo pork heart
½ kilo pork lungs
4 cloves garlic, minced
1 medium onion, chopped
1 medium carrot, cubed
2 large tomatoes, diced
3 pcs siling labuyo (red pepper), minced
1 red bell pepper, cubed
5 tbsp soy sauce
1 tbsp atsuete (annatto seeds)
5 tbsp vinegar
salt
pepper
cooking oil
Cooking Directions:
1. In a large pot, boil the lungs and heart for 10 minutes. Remove and chop into small cubes. Set aside and change the water in the pot. Boil them again for another 10 minutes and set aside.
2. Dissolve and mash the atsuete in ¼ cup water. Remove the seeds and set the water aside.
3. Heat the oil in a pan and sauté the onion, garlic and tomatoes. Add the heart, lungs, and soy sauce. Saute for another 10 minutes.
4. Add the red bell pepper, siling labuyo and vinegar. Let it simmer for 5 minutes.
5. Add salt, pepper, atsuete water, and then the carrots. Let it simmer and continue cooking until it is done.
6. Transfer to a serving plate and serve hot.
7. Enjoy!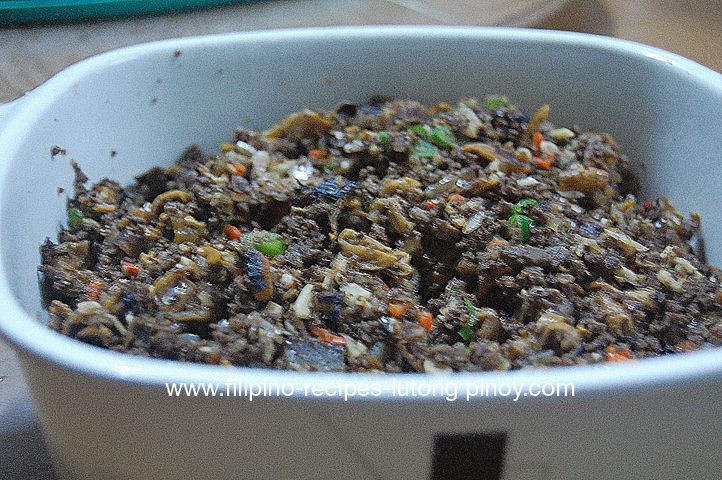 If you like the recipe you just found, please share it... 
---
Follow us on Social Media

What Do You Think About this Recipe? Anything You Want to Share?
Share it!