Pork Steak Recipe
Pork Steak Recipe

The more popular Bistek Tagalog (Beef Steak) has its pork version, too, known as Pork Steak or Pork Bistek. For people who prefer pork over beef, this dish is for you. Some people love their pork cuts with some fat and skin attached to it. Aside from being more economical, the cooking time for pork is much shorter, too.

Preparing this dish doesn't differ much in terms ingredients and cooking process. The big difference lies in the meat being used. Ideally, pork chops are used for making this dish but any pork cut will work just as well, as long as they are cut properly.
    
This dish has a distinct citrus flavor because of the infusion of calamansi juice, a local lemon. Soy sauce is also combined to balance off the flavors and to add a touch of saltiness. Crunchy onion rings also enhances the texture and flavor to the dish. Since we are rice-eating people, we are not into the meat and potatoes combo. This dish is best served on top of steamed rice. As an option, you can also add potatoes to this dish.  
    
Preparing this dish is quite easy because there is a few ingredients, and they are easy to find. Try this recipe and it is guaranteed that you will love it. You might need a couple cups of rice because one might not be enough.

Preparation Time:   1 hour
Cooking Time:   30 minutes
Yield:   4-6 servings
Ingredients:
1 kilo pork cut of your choice
1 cup soy sauce
1/3 cup calamansi juice
3 medium-sized onions, cut into rings
4 medium-sized potatoes, peeled and quartered
1 cup water
salt and pepper to taste
cooking oil
Cooking Directions:
1.    In a large bowl, combine the pork, soy sauce and calamansi juice. Cover and marinate the meat for around an hour.
2.    Fry the potatoes in a pan until they turn light brown, then set aside.
3.    In the same pan, add some oil and fry the pork for about 5 minutes per side or until it is done. Transfer to a serving dish.
4.    Pour the marinade in the same pan along with the water. Bring to a boil and let it simmer. Add the onions, salt and pepper and cook for about 3 minutes.
5.    Pour the sauce over the meat and add the potatoes.
6.    Serve hot with steamed rice.
7.    Enjoy!

Pork Steak Recipe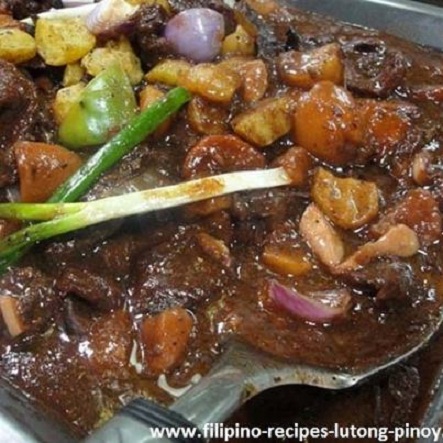 If you like the recipe you just found, please share it... 
---
Follow us on Social Media

What Do You Think About this Recipe? Anything You Want to Share?
Share it!