Eggplant Salad
(Ensaladang Talong)
Eggplant Salad
(Ensaladang Talong)

Another popular dish made out of eggplants is Ensaladang Talong or Eggplant Salad. This plant, which is related to potatoes and tomatoes, has found its way into many culinary dishes all over the world. It was originally domesticated in India and is now grown in other countries as well.
The Philippines grows a lot of eggplants and no wonder we have created dishes with eggplant in them like Pinakbet, Eggplant Adobo, Tortang Talong (Eggplant Omelette), and the list goes on and on.

This light and oil-free salad is prepared by either steaming, mashing or cutting the grilled eggplant into smaller pieces. The basic recipe calls for the addition of onions and tomatoes and the dressing is made by combining garlic, vinegar, soy sauce and chili peppers for the heat seekers. Other variations add cucumber and okra to make it a totally healthy dish.

This is the perfect side dish along with any grilled pork dishes like Grilled Pork Belly, Pork Chops or Pork barbecue, or any grilled fish. The acidity of the salad balances off the fat in the meat, and it also reduces the fishy after taste.

This easy to prepare and simple salad is really tasty and of course, very healthy. You don't need to have an outdoor grill to cook this because you can grill the eggplants over your stove top or put them in the oven. Convenient, right? So, you don't have any excuse not to try this recipe. If you have extra grilled eggplants, you can save them for breakfast the following morning to make Tortang Talong.

Preparation Time:   1hour
Yield:   4-6 servings
Ingredients:
4 Chinese eggplants
2 medium-sized onions, cubed
4 medium-sized tomatoes, cubed
6 cloves garlic, peeled and crushed
¾ cup white vinegar
1 tsp salt
½ tsp ground black pepper
Cooking Directions:
1.    Grill the eggplants over charcoal or stove top. Allow it to cool, then peel the skin off very gently, making sure to keep much of the flesh. Remove the stems.
2.    In a bowl, mash the eggplants with a fork. Add the onions and tomatoes. In a separate bowl, combine together the garlic, vinegar, salt and pepper.
3.    Pour the mixture over the vegetables and toss gently to mix them together.
4.    Cover and set it aside for about half an hour before serving.
5.    If desired, you can top with bagoong (shrimp paste).
6.    Enjoy!

Eggplant Salad (Ensaladang Talong)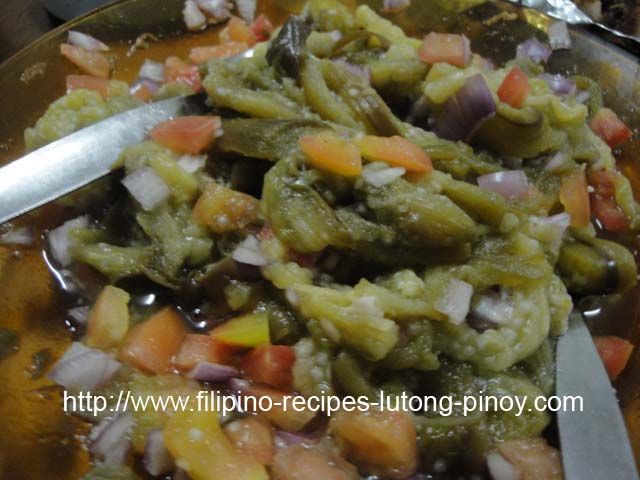 If you like the recipe you just found, please share it... 
---
Follow us on Social Media

What Do You Think About this Recipe? Anything You Want to Share?
Share it!