Tapsilog
Filipino Recipe

Tapsilog Filipino Recipe is consisting of tapa, sinangag (fried rice), and itlog (egg). It is usually available in restaurants or even in small eatery here in the Philippines.

For those who does not know what tapa is, it is dried cured beef usually prepared beforehand. Be sure to buy fresh beef because it's the key to make this delicious dish. Here is one of many recipes of tapa, and the steps to prepare tapsilog;
Cooking Ingredients:
For tapa:
1kg beef round or chuck cut in thin strips
3 tbsp. olive oil
6 cloves garlic chopped
1 tbsp. black pepper
4 tbsp oyster sauce
1/3 cup calamansi juice/ lemon juice
½ cup soy sauce
1 pc. onion sliced into rings
For fried rice and egg:
1cup of cooked rice
2 cloves chopped garlic
¼ cup olive oil
1tsp. salt
1 egg
Cooking Direction:
Steps for Tapa:
Step 1: In a large bowl, mix the beef, black pepper, calamansi juice, oyster sauce, soy sauce, garlic until evenly distributed. Cover and put in a refrigerator for minimum of 4 hours.
Step 2: Drain the beef
Step 3: Heat the pan and fry the beef in cooking oil (in medium heat) until the beef becomes tender.
Step 4: if done, served with onion rings on top
Steps for Fried Rice and egg:
Step 1: Heat the pan with cooking oil.
Step 2: Fry the egg. If done, put the egg on plate together with the tapa.
Step 3: Sauté garlic until it turns to light brown. Put the garlic in a small bowl and set aside.
Step 4: Put the rice into the frying pan (in medium heat) mix for 2 minutes then add salt. Mix again for another 1 minute.
Step 5: Turn off the heat. Put the rice in the same plate together with the tapa and egg.
Step 5: Spread the garlic over the rice for toppings. Tapsilog ready to serve.
Watch our YouTube on How to Make Beef Tapa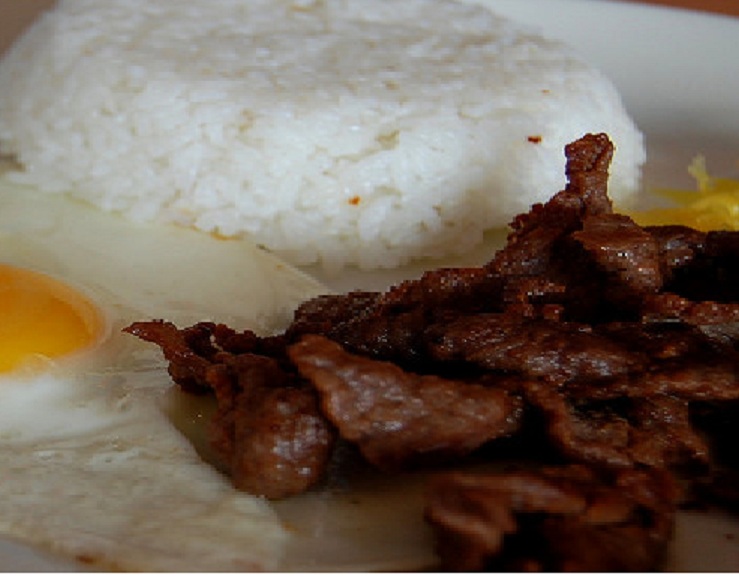 If you like the recipe you just found, please share it... 
---
Follow us on Social Media

What Do You Think About this Recipe? Anything You Want to Share?
Share it!