Cashew Chicken Recipe
Cashew Chicken Recipe

If you are tired of chicken dishes like Fried Chicken, Adobo and soups, and want to try something new and different for a change, then Cashew Chicken might be the dish that you are looking for. This is a very common Oriental dish, especially in Thailand and China. It is made by deep frying or stir-frying chicken pieces with cashew nuts and some vegetables, and served in a thick sauce.  This dish has a lot of distinct flavors, like being a little bit salty, sweet and of course, an extra kick of spiciness.

The Thai version, which most people consider to be the best, is flavored with some local seasoning sauces, spices and fish sauce. But unknown to many, it was actually a Chinese-American named David Leong who created this dish in the US. He named it Springfield Cashew Chicken.

Of course, the Filipinos won't be left behind with its own version of Cashew Chicken. It is usually made with chicken breast that is coated with cornstarch, and then stir-fried with vegetables to make them crispy. The cashew nuts are roasted which adds flavor and crunchiness to this delicious creation. This Cashew Chicken recipe is a very filling and rich main dish, and best served with rice, either steamed or fried.

Preparation Time:   20 minutes
Cooking Time:   15-20 minutes  
Yield:   4-5 servings
Ingredients:
1 ½ lbs boneless, skinless chicken breast, cut into thin slices
½ cup cashew nuts, roasted
2 tbsp cornstarch
¼ tsp salt
½ tsp sugar
5 cloves garlic, minced
1 large onion, sliced
1 cup green bell pepper, cut into strips
½ cup green onions, sliced
2 tbsp rice vinegar
1 tbsp soy sauce
4 tbsp hoisin sauce
¼ tsp sesame oil
cooking oil
salt and pepper to taste

Cooking Directions:
1.  Roast the cashew nuts in a preheated 350 F oven for about 5 minutes. Set aside.
2.  Mix together the ¼ tsp salt, sugar and cornstarch, and put in a ziploc bag. Add the chicken pieces, seal the bag and shake thoroughly to ensure that the chicken is coated evenly with the mixture.
3.  Heat the oil in a large pan. Fry the chicken pieces until they turn golden brown. Set aside.
4.  In the same pan, stir-fry the garlic, onion and bell pepper.
5.  Lower the heat and put the chicken pieces back in the pan. Add the rice vinegar, and cook for about half a minute. Pour in the water, soy sauce and hoisin sauce. Mix together, and allow to cook for a few minutes.
6.  Add the cashew nuts, green onions and sesame oil. Season with salt and pepper, according to your taste.
7.  Transfer to a serving dish and serve hot.
8.  Enjoy!

Cashew Chicken Recipe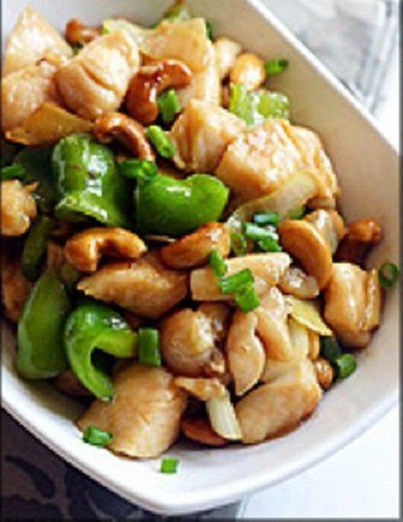 If you like the recipe you just found, please share it... 
---
Follow us on Social Media

What Do You Think About this Recipe? Anything You Want to Share?
Share it!