Filipino Spaghetti
Filipino Spaghetti


You may ask why Filipino spaghetti? Because we Filipinos have created our own distinct way of preparing Spaghetti that is like no other. Among our European influences, Italian cuisine is not as evident as the Spanish influence. This is the reason why it is called Filipino style Spaghetti, in order to differentiate it from the Italian Spaghetti. The Spaghetti was introduced when the Americans occupied the country in the early 1900s. From then on, the dish has evolved into something uniquely Filipino.
What makes our version unique is the addition of banana catsup as sauce to add to the sweetness of the dish. As if the sweetness of the banana catsup is not enough, sugar is also added. Aside from the unique sauce, sliced hotdogs, beef franks or sausage is also added. Instead of meatballs, ground meat is added, and it is topped with quick-melting cheese instead of the usual parmesan cheese. If the traditional Italian Spaghetti is a little on the sour or tart side, the Filipino version is sweet. If it's a tad too sweet for your taste, you can easily remove sugar in your recipe or just add a pinch.

This dish is always present in almost all gatherings especially in kiddie parties along with fried chicken and hotdog on a stick. This usually caters to the kids' palates because of the sweetness. Even large fastfood chains like McDonalds and Jollibee have joined the bandwagon by having their own version as part of their kid's meal. Only in the Philippines can you find spaghetti in a McDonalds restaurant, and they call it McSpaghetti.

Preparation Time: 15 mins
Cooking Time: 20 mins
Yield: 6 servings
TESTIMONIAL
Sweet Spaghetti! paborito ng mga anak ko kasi matamistamis! Salamat po sa recipe! ~ Myrna ng San Diego, CA

Ingredients:
1 pack spaghetti
4 pcs hotdog, sliced diagonally
1 lb ground pork
1 lb ground beef
1 cup UFC banana catsup
4 cups tomato sauce
1 small can tomato paste
2 tbsp sugar
1 medium sized onion, diced
5 cloves garlic, minced
¾ cup water
cheddar cheese, grated
salt and pepper to taste

Cooking Directions:
1. Prepare the spaghetti noodles according to the package instructions. Set aside.
2. In a large pot, sauté the onions and garlic.
3. Add the ground meat and cook for around 10 minutes until the fat has rendered.
4. Put the hotdogs and cook for another 2 minutes.
5. Add the banana catsup, tomato sauce, tomato paste, sugar, water, salt and pepper. Simmer for about 15 to 20 minutes.
6. Place the cooked noodles in a serving bowl and pour the sauce on top of it. Sprinkle the cheddar cheese on top.
7. Serve hot.
8. Enjoy!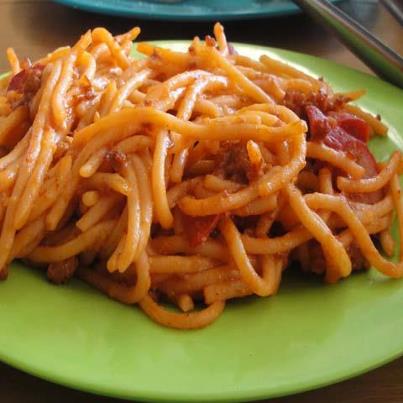 If you like the recipe you just found, please share it... 
---
Follow us on Social Media

What Do You Think About this Recipe? Anything You Want to Share?
Share it!