Chicken Liver Adobo

Chicken Liver Adobo

Among the many dishes and cuisines that has influenced Filipino cooking, the Adobo surely stands out as being on top of the list. It is considered our national dish for we believe that this dish truly embodies the uniqueness of our culture, and is distinctly Filipino. This process of cooking involves marinating meat, like pork or chicken, vegetables or seafood, in vinegar, soy sauce and garlic and peppercorn. It is then simmered in its marinade.
The Adobo could be classified as a stew and doesn't even require refrigeration. The inclusion of vinegar makes it possible to have a long shelf life.

Although chicken is one of the meats used for Adobo, there are also other parts of the chicken that are used. This recipe is not for the faint of heart because the chicken parts used are not the traditional ones. This contains the chicken innards like the liver, gizzards and heart. Disgusting as it may sound, this dish is really delicious, but I guess you need to have an acquired taste to really appreciate it. These chicken parts are readily available in wet markets and supermarkets all over the country.

This recipe is done the traditional way of cooking Adobo. So try this Chicken Liver Adobo recipe and see what you have missed. This is best served with rice. For those who want it more on the spicy side, you can adjust the number of siling labuyo (chili pepper) that you want to add.

Preparation Time:   15 minutes
Cooking Time:   1 - 1 1/2 hours
Yield:   6-8 servings

Ingredients:
1 kilo chicken liver, gizzards and heart
1 medium sized onion, chopped
6 cloves garlic, minced
4 tbsp vinegar
3 pcs bay leaf
4 tbsp soy sauce
1 tsp peppercorn
siling labuyo (chili pepper)
cooking oil
salt
water

Cooking Directions:
1.    Clean the chicken parts thoroughly in running water. Cut them into serving pieces.
2.    Saute the garlic and onion in a little oil in a large pot. Pour 6 cups of water, and then add the gizzards and heart. Add the soy sauce, vinegar, bay leaves and peppercorns. Bring to a boil and let it simmer for about an hour or until they are tender.
3.    Add the liver and siling labuyo. Cook for another 10 minutes or until they are done and the sauce has thickened. Season with salt.
4.    Transfer to a serving dish and serve with rice.
5.    Enjoy!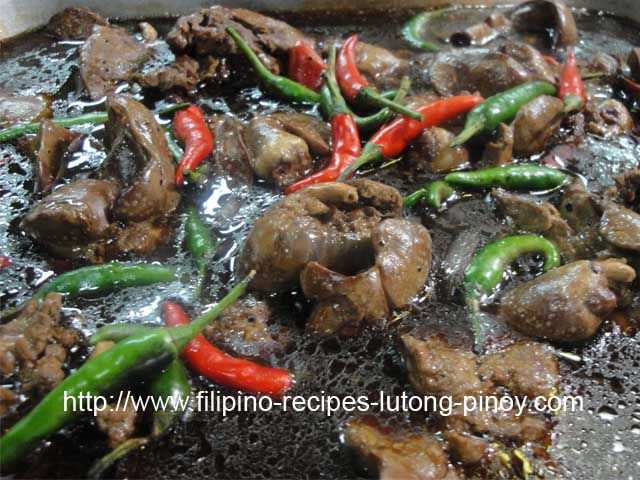 If you like the recipe you just found, please share it... 
---
Follow us on Social Media

What Do You Think About this Recipe? Anything You Want to Share?
Share it!