Pancit Miki
Filipino Recipe

Pancit Miki
Filipino Recipe

One of the variations of the Pancit, the local term for noodles in the Philippines, is the miki. This dish, though not as popular as the Pancit Canton or Pancit Bihon, still has its distinct taste and characteristic that has people craving and wanting more. The dish was introduced to us by the Chinese and literally means "something conveniently cooked fast".
This dish uses fresh and thick egg noodles. In comparison to the other types of noodles, it is a little thinner than Pancit Lomi noodles, and a little thicker than the Pancit Mami noodles. This noodle can either be cooked as a soup or stir-fried. Pancit Miki Guisado is cooked stir-fried, similar to Pancit Canton. It can also be cooked with a wide variety of ingredients like chicken, pork, vegetables and seafood.

The noodles are refrigerated, and must be used within several days or else they will not be good anymore. They also cook really fast, on the average around 5 minutes is adequate, and they should have a little chewy consistency. Ideally, it is best if the noodles are fresh, but pre-packaged and dried ones will still taste great.

This meal is usually served during birthdays for long life, and other special occasions. It can be eaten by itself or paired with bread. Yummy!

Preparation Time: 10 minutes
Cooking Time: 20 minutes
Yield: 4 servings

Ingredients:
1 lb pancit miki
½ lb lean pork, cut into strips
½ lb shrimp, peeled
2 pcs chicken breast, cut into strips
1 cup sliced carrots
2 cups chopped cabbage
1 onion, sliced
5 cloves garlic, minced
5 tbsp soy sauce
1 tbsp oyster sauce
salt
pepper
cooking oil
2 tbsp sliced onion leaves for garnish
Cooking Directions:
1. To remove the oiliness and saltiness of the noodles, wash it in running water.
2. Heat the oil, and cook the shrimps until they turn pink. Set them aside.
3. In the same pan, sauté the onion and garlic. Add the chicken and cook for 3 minutes. Add the pork and cook for 2 minutes.
4. Add the shrimps, salt, pepper, soy sauce and oyster sauce. Add some water and cook for 6 minutes.
5. Add the carrots and cabbage and cook for about 5 minutes or until they are tender.
6. Add the noodles. Stir occasionally, and adjust the taste accordingly.
7. When it is thoroughly cooked, transfer to a serving dish, and garnish it with the sliced onion leaves.
8. Serve hot.
9. Enjoy!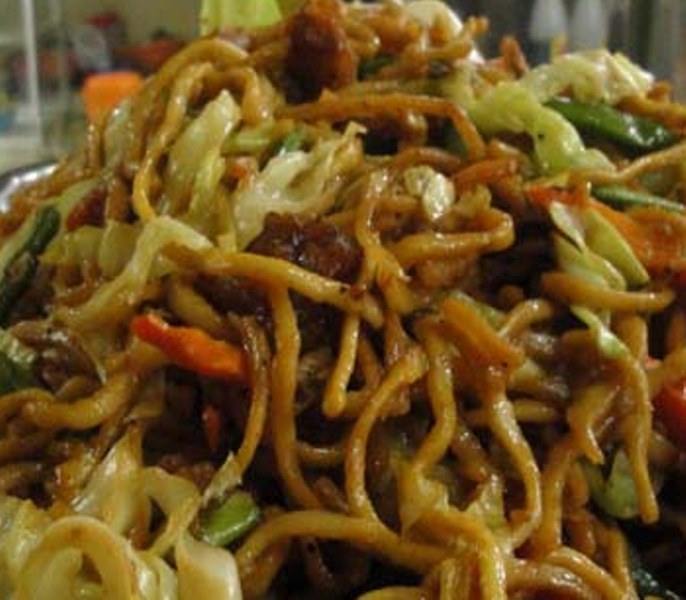 If you like the recipe you just found, please share it... 
---
Follow us on Social Media

What Do You Think About this Recipe? Anything You Want to Share?
Share it!