Sapin-sapin
Filipino Recipe
Sapin-sapin Filipino Recipe

A meal wouldn't be complete without dessert for as they say, you save the best for last. The Philippines is abundant in that aspect because we can boast of a lot of mouth-watering sweet concoctions and kakanins (sweet delicacies made of malagkit or glutinous rice). The most popular are the Suman, Bibingka, Biko, Puto and Kutsinta. One kakanin that originated in the northern province of Abra is the Sapin-sapin.

It is a dessert made of glutinous rice and coconut layered in tri-colored bright hues. The word means layers as it is distinguishable in its distinct colors. The bottom layer is in deep purple, the middle is in egg yolk yellow and the top is white. This is made with rice flour, sugar, coloring and water, and topped with coconut flakes or latik. The rice flour is soaked overnight, pounded until it turns into paste. Every layer is cooked by steaming before the next layer is added on.

The bright colors make it so attractive and tempting. Generally, food coloring is added to create the different hues but sometimes, corn or jackfruit is added to the yellow layer, and ube (taro) to the deep purple layer.

Come taste and see this colorful and uniquely Filipino dessert.

Preparation Time: 15 mins
Cooking Time: 1 ½ hour
Yield: 4-6 servings

Ingredients:
½ cup rice galapong
1 ½ cups malagkit dough
3 cups boiled ube (purple yam), mashed
½ cup langka (jackfruit), chopped (optional)
½ cup granulated white sugar
1 can condensed milk
1 cup coconut cream
purple and yellow food coloring
1 cup toasted coconut flakes for topping
banana leaves for lining
coconut or canola oil

Cooking Directions:
1. Combine all the ingredients together except the food coloring, ube and jackfruit. Divide the mixture equally into 3 parts.
2. Add a dash of purple food coloring and the mashed ube in one container, and mix them together until a rich purple color is achieved. Add the langka and yellow food coloring in the second container, and mix them together.
3. Line a round baking pan along the sides and bottom with banana leaves. Brush it lightly with coconut or canola oil.
4. Prepare the steamer and bring the water to a boil.
5. Pour the ube mixture in the baking pan, and steam for about 30 minutes or more until it firms up. Stick a toothpick and make sure it comes out clean.
6. Add the yellow mixture over the ube mixture, and steam for another 30 minutes.
7. Add the plain mixture on top of the yellow mixture, and steam for another 30 minutes or until it sets.
8. Remember to cover the pan with cheese cloth before you start steaming.
9. Carefully remove from steamer, and transfer to a serving plate. Top it with the toasted coconut flakes. Leave in the refrigerator until it is ready to serve.
10. Slice into wedges before serving.
11. Enjoy!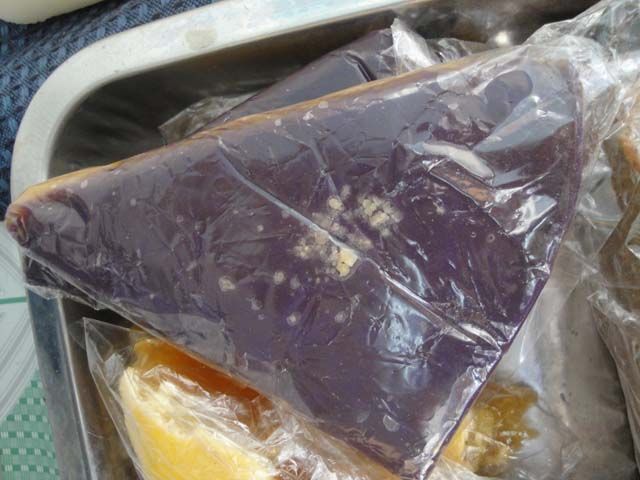 If you like the recipe you just found, please share it... 
---
Follow us on Social Media

What Do You Think About this Recipe? Anything You Want to Share?
Share it!