Grilled Tilapia
(Inihaw na Tilapia)
Grilled Tilapia (Inihaw Na Tilapia)


Aside from bangus (milkfish), our national fish, another popular fish that is a common sight at the dining table is the tilapia. This inexpensive and abundant farm-raised fish is a staple in most homes, and the Filipinos have created several ways of cooking tilapia. Tilapias grow fast but they have short lives. Nutritionally, their mercury level is low as well as calories, sodium, saturated fat and carbohydrates. Aside from being rich in protein, it also has substantial quantity of niacin, phosphorus, Vit B12, selenium and potassium.

Tilapia is truly a healthy option with all these nutrients it contains.
Tilapia is not only good fried because of its crispiness but grilled as well. Grilled Tilapia (Inihaw na Tilapia) is very easy to prepare, delicious and wallet-friendly. The most common way of doing this is by stuffing it with spices and seasonings, and then wrapping it in banana leaves to give a whiff of aroma which removes the fishy smell. It also prevents the burning of the skin when it gets in contact with the grill. Some people wrap it again in aluminum foil to prevent the juices from seeping out.

For some people who dislike the sight of cooking the whole fish, tilapia fillets can be used for grilling as well. Adding ginger in the stuffing also removes the fishy aftertaste.

So if you haven't tried grilling or eating tilapia, now is the best time to do it. Just make sure your favorite dipping sauce is by your side for the total enjoyment of the dish.

Preparation Time: 30 mins
Cooking Time: 25 mins
Yield: 2-3 servings
Ingredients:
1 large tilapia
2 pcs medium tomatoes, diced
1 large onion, chopped
1 thumb size ginger, chopped
1 tsp calamansi juice
salt
pepper
banana leaf and aluminum foil for wrapping

Cooking Directions:
1. Prepare the stuffing by mixing the tomatoes, onion, calamansi juice, ginger, siling labuyo, salt and pepper in a bowl. Set it aside.
2. Remove the innards, gills and scales of the fish. Wash it thoroughly and rub some salt on the skin.
3. Slit the side of the fish and stuff the cavity with the mixture. Be careful not to overstuff the fish.
4. Wrap the fish with the banana leaf first, then the aluminum foil. Fold both ends securely.
5. Grill for about 10 to 12 minutes on each side over charcoal.
6. Unwrap and serve hot with your favorite dipping sauce.
7. Enjoy!
Grilled Tilapia (Inihaw na Tilapia)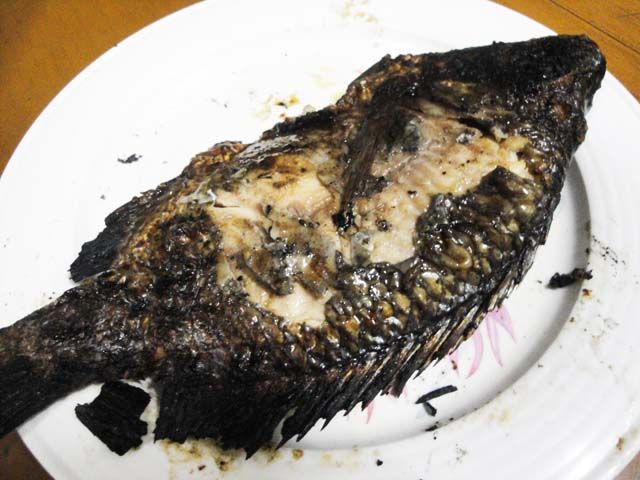 If you like the recipe you just found, please share it... 
---
Follow us on Social Media

What Do You Think About this Recipe? Anything You Want to Share?
Share it!