Roasted Chicken Recipe
(Lechon Manok)

Roasted Chicken Recipe
(Lechon Manok)

Undoubtedly, the Lechon (roast pig) is one of the most famous dishes in the Philippines, along with Adobo. There is a poultry counterpart of the Lechon, and that is Lechon Manok or Roasted Chicken. Basically, it is roasted chicken cooked with the same ingredients, and cooked the same way as its famous counterpart. It is similar to rotisserie chicken but cooked in an outdoor pit.

This dish can be considered as one of the all-time favorite viand of the Filipinos because it is readily available at practically every street corner in the country, and should I say it is also very flavorful and tasty? What is also distinct about the Lechon Manok is its scent and aroma which comes from the tanglad (lemon grass), and other blend of spices that only the Filipinos can conceive of.

It is a staple in most parties and celebrations, or even just for regular lunches and dinners. Comparably, it is also cheaper than the roast pig. It is best served with lechon sauce, a kind of liver sauce and atsara (pickled green papaya). It also goes best with a sauce combining calamansi juice, a local lemon, and soy sauce and chili pepper for that spicy kick.

If you can't do this Roasted Chicken recipe in an outdoor pit, roasting it in the oven will work just the same.
 
Preparation Time:   20 mins (excluding marination)
Cooking Time:   1 ½ hours
Yield:   5-6 servings
Ingredients:
1 whole chicken (about 1 kilo)
4 stalks tanglad (lemon grass)
5 cloves garlic, minced
1 onion, chopped
4 tbsp calamansi or lemon juice
¼ cup soy sauce
3 bay leaves
3 tbsp brown sugar
1 cup Sprite or 7up
1 tbsp cooking oil
salt and pepper to taste
Cooking Directions:
1. In a large bowl, prepare the marinade by mixing together the garlic, onion, calamansi or lemon juice, soy sauce, brown sugar, soda, salt and pepper.
2. Pat dry the chicken, and rub it all over with the marinade, including the cavity. Refrigerate for about 4 hours or to obtain the best result, marinate it overnight.
3. Preheat the oven to 400° F or 200° C.
4. Stuff the cavity with the lemon grass folded into four and bay leaves.
5. Roast the chicken for about an hour and a half or until the chicken has turned golden brown. If using a food thermometer, the internal temperature should be around 160° F to 165° F.
6. Add oil to the remaining marinade and baste the chicken with it a couple of times during roasting.
7. Remove from oven and let it rest for 10 minutes before cutting into serving pieces.
8. Serve hot with your favorite dipping sauce.
9. Enjoy!

Roasted Chicken Recipe (Lechon Manok)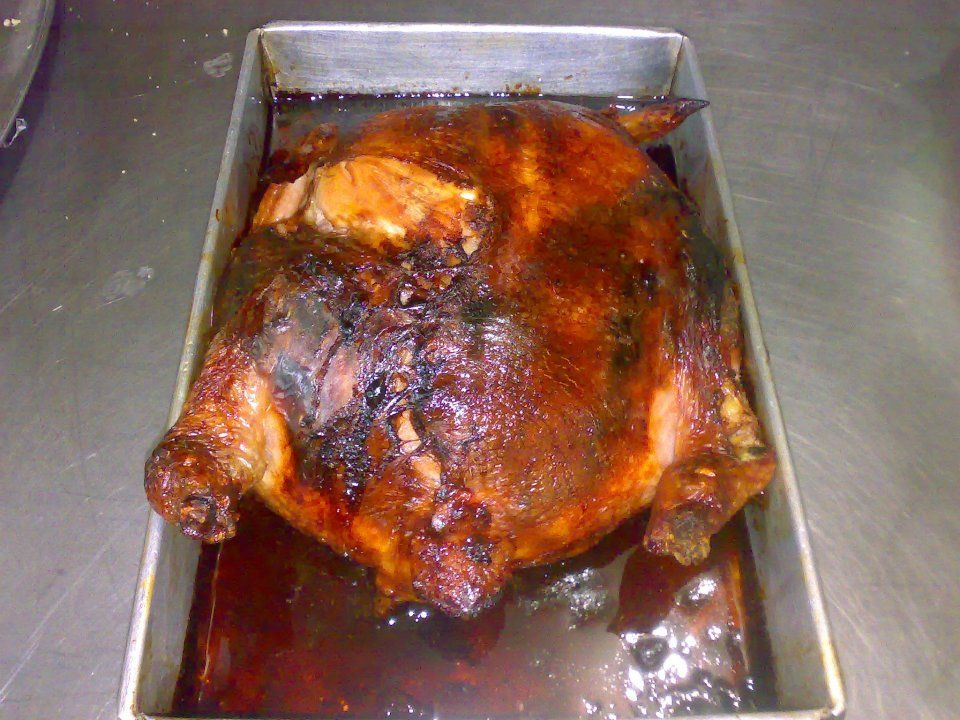 If you like the recipe you just found, please share it... 
---
Follow us on Social Media

What Do You Think About this Recipe? Anything You Want to Share?
Share it!