Lengua
Filipino Recipe
Lengua Filipino Recipe

Can you imagine eating beef tongue? To Westerners, it may sound too gross and yucky, but to us Filipinos, it's just another dish that is part of our nose-to-tail culinary tradition or eating the animal's spare parts, like Dinuguan, Bopis, Sisig, Isaw, etc. The dish is called Lengua, a tongue dish from our Spanish colonizers. This tongue of a cow has found its way to other countries, too, and each has their own version.

The tongue actually tastes good, even better than regular steak, and not gamey at all. It tastes similar to beef once it has been stewed or braised, and is very tender. It is usually simmered for 3 to 6 hours to achieve the tenderness and the flavor.

There are several methods of cooking Lengua. There is Pastel de Lengua (similar to Chicken Pot Pie, Lengua Estofado (cooked in tomato sauce) and Lengua in Mushroom Sauce (in creamy and rich sauce similar to Beef Stroganoff). It is served best with either mashed potatoes, pasta or steamed rice. Because of its price and the long cooking time, it is usually only served in fine dining restaurants in the Philippines.

Hope you enjoy this version of Lengua in Mushroom Sauce. You might need another cup of rice, for surely you will be craving for more. Enjoy this Lengua Filipino Recipe!

Preparation Time: 30 mins
Cooking Time: 3-4 hrs
Yield: 6 servings
Ingredients:
2 lbs lengua
½ stick butter
8 pcs fresh button mushrooms, chopped
6 cloves garlic, minced
6 whole peppercorns
1 onion, quartered
1 tsp salt
2 cans cream of mushroom soup
water
2 bay leaves
Cooking Directions:
1. Boil the lengua in unseasoned water for about 30 to 45 minutes. The white filament covering the lengua should be visible.
2. Remove the lengua from the pot and allow it to cool off. Once it has cooled off, discard the white filament and the water.
3. Place the lengua in a pot with water, garlic, peppercorn, onion, salt and bay leaves. Bring to a boil. Cover and let it simmer for about 3 to 4 hours until it becomes tender. If you are using a pressure cooker, it might take between 1 to 1 ½ hours.
4. Remove the lengua from the pot and let it cool off. Slice the meat in discs and set aside. Set aside the broth.
5. Combine the cream of mushroom soup and 3 cups of broth in a pan. Bring to a boil and simmer until there are no more lumps.
6. Add the mushrooms and cook for 2 minutes. Add the lengua and continue simmering until it is heated through.
7. Put the butter in the pan. Mix together. Turn off the heat.
8. Transfer to a serving plate.
9. Enjoy!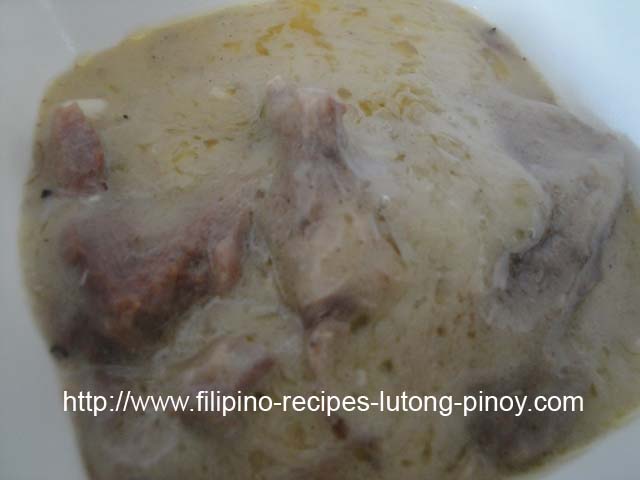 If you like the recipe you just found, please share it... 
---
Follow us on Social Media

What Do You Think About this Recipe? Anything You Want to Share?
Share it!