Cassava Cake
Filipino Recipe
Cassava Cake




Filipino Recipe




The Philippines is very abundant in root crops, and they are a big part of our traditional cuisine. One of them is the cassava or commonly known as kamoteng kahoy or balanghoy in the dialect. It is easily grown in the country, and is known as the "poor man's crop". It is a woody shrub that is known for its starchy and edible tuberous root. Nutrition-wise, it is a rich source of carbohydrates, that's why it is a staple in developing countries.

When you mention Cassava Cake to a Filipino, it is guaranteed that you could instantly see a smile across the face. This traditional dessert or kakanin (sweet delicacy) makes one's mouth water just mentioning it. It is a very simple dish to make but is quite delicious and unforgettable, you will be asking for seconds. This dessert is made from grated cassava with sugar, eggs and coconut milk. The topping consists of a creamy milk mixture. It is baked in rectangular cake pans or tin molds.

The Cassava Cake is ever present in special occasions and gatherings, and just as perfect as a snack or a dessert after a sumptuous meal. So enjoy this Cassava Cake Filipino Recipe!
Preparation Time: 20 minutes
Cooking Time: 1 hour and 10 minutes
Yield: 24 squares

Ingredients:
2 lbs grated cassava
3 eggs
1/2 can condensed milk
1/2 can evaporated milk
1/4 cup melted butter
1/3 cup grated cheddar cheese
1 cup sugar
1 can coconut milk
1 tsp vanilla extract

For the topping:
1 can condensed milk
3 egg yolks
1/3 cup coconut cream
½ cup grated cheddar cheese

Cooking Directions:
1. Preheat your oven to 180 C (350 F). Grease a 9"x13" baking tray.
2. In a mixing bowl, add the cassava, melted butter, evaporated milk, condensed milk, cheese, eggs, vanilla and sugar. Mix all the ingredients thoroughly until you reach an even consistency.
3. Add the coconut milk, and pour the batter in the baking tray.
4. Bake for 45 to 50 minutes. Make sure the top is firm. Take out of the oven and set aside.
5. Prepare the topping by mixing all the ingredients together in a pan over medium heat. Stir constantly until it becomes thick. Let it simmer for about a minute.
6. Pour the topping over the cake. Spread it evenly with the use of a spatula.
7. Put in the oven again and bake for another 15 minutes, or until the top turns golden brown.
8. Let it cool off before you cut and serve.
9. Enjoy!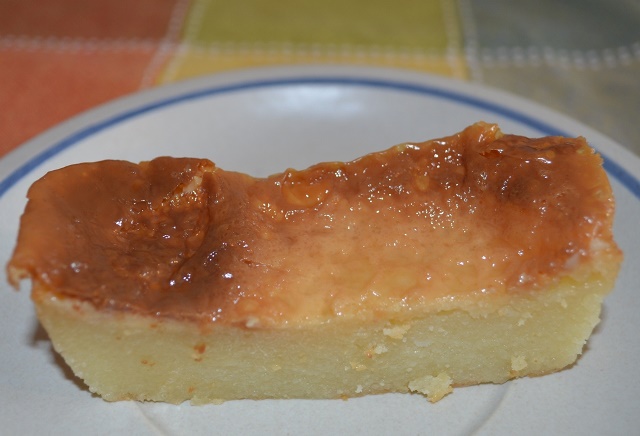 If you like the recipe you just found, please share it... 
---
Follow us on Social Media

************************************************************
You might like our other Kakanin Filipino Recipes 
************************************************************
You might like our other Dessert Filipino Recipes .....
What Do You Think About this Recipe? Anything You Want to Share?
Share it!