Macaroni Salad Recipe
Macaroni Salad Recipe

Macaroni Salad can be found in cuisines all over the world due to the popularity and diversity of the macaroni noodles. Each country has their own distinct way of preparing it, as well as the ingredients that they add on to it. Basically, it is a cold salad made of cooked elbow macaroni and with mayonnaise as the dressing.

The Filipino version is distinct from the other recipes because boiled chicken is added, hence, sometimes it is called Chicken Macaroni Salad. It is also mildly sweet, with a generous helping of mayonnaise. To add to its uniqueness is the addition of hardboiled eggs, cheese and chopped fruits and vegetables, like raw onions, raisins, pineapples, carrots and pickle relish.

This recipe is very easy and quick to prepare as well. It doesn't involve much cooking, except for boiling the macaroni noodles and chicken. After shredding the chicken and the noodles are cooked, the final step is combining all the ingredients together. Easy as 1-2-3!
    
This cold dish is usually present during parties and family gatherings. It goes best along with fried chicken and grilled stuff. If you have tried Macaroni Salad before, try this recipe and see the difference. You will surely gonna say, "This is the best Macaroni Salad that I have tasted!" It tastes a hundred times better and more flavorful than the ones you have tried.

Preparation Time:   20 minutes
Cooking Time:   10 minutes
Yield:   6-8 servings
Ingredients:
2 cups elbow macaroni, uncooked
1 ½ cups mayonnaise
1 lb boneless chicken breast
1 15 oz can pineapple tidbits
1/4 cup pickle relish
3 hardboiled eggs, chopped
1 medium-sized onion, minced
1 cup raisins
1 carrot, finely chopped
1 cup cheddar cheese, diced
salt
pepper
Cooking Directions:
1.    Cook the noodles following to the package directions. Set aside.
2.    Boil the chicken breast in salted water. Remove from pot and shred in 1 inch length. Set aside.
3.    Drain the juices out of the pickle relish and pineapple tidbits to avoid the salad to be soggy.
4.    In a large mixing bowl, combine all the ingredients together, except for the mayonnaise. Make sure that the noodles and shredded chicken have cooled off before adding in the bowl.
5.    Add the mayonnaise and mix well, then add salt and pepper to taste.
6.    Leave in the refrigerator to chill for about an hour before serving.
7.    Enjoy!

Macaroni Salad Recipe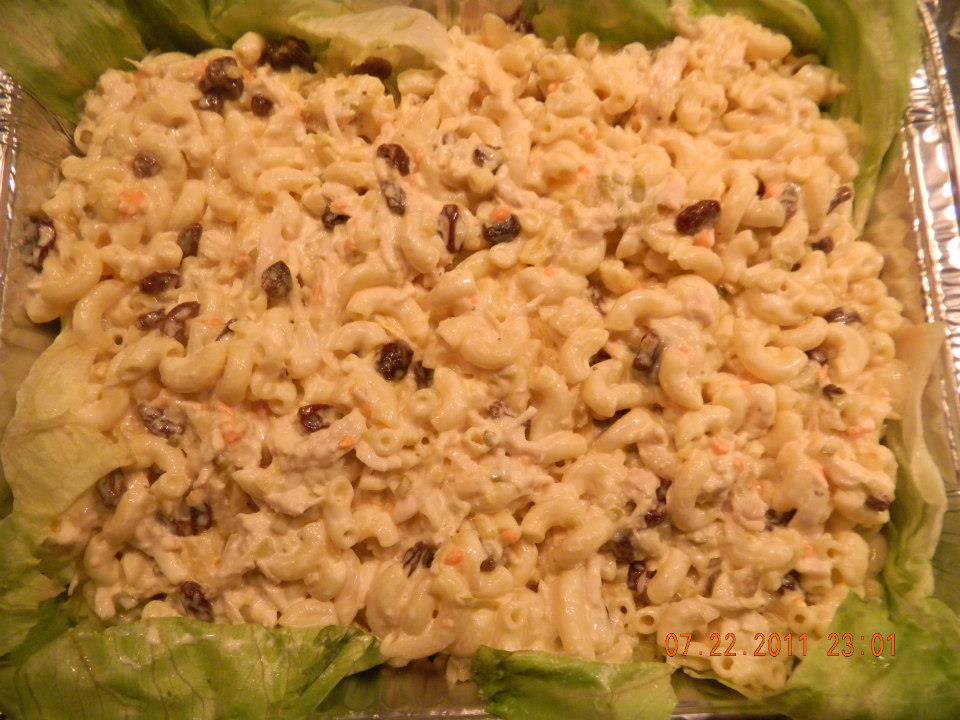 If you like the recipe you just found, please share it... 
---
Follow us on Social Media

What Do You Think About this Recipe? Anything You Want to Share?
Share it!