Kilawin Malasugue
(Blue Marlin)
Kilawin Malasugue
(Blue Marlin)

If the Americas has Ceviche, the Philippines has Kilawin or Kinilaw. While the Ceviche is a seafood salad, our version not only uses raw fish but pork meat as well. Being a country blessed with an abundance of fish, it is but natural that we find ways of preparing fish.

Kinilaw originated in the Visayas, the southern part of the country. Instead of cooking fish the traditional way by frying or grilling, this process involves soaking raw fish in vinegar and calamansi juice, a local lemon. Since it does not use heat, the meat is slightly or semi-cooked by the acids found in the vinegar and calamansi juice. It is soaked for a couple of hours and chilled before serving to ensure that it has transformed a little bit and also avoid food spoilage. You could tell that the fish is ready to be eaten when its color has turned opaque.

In this recipe, the fish used is malasugue or blue marlin. The most popular fish used for Kinilaw is tuna, but any white fish will do, as long as it is fresh. This is usually served as a side dish or pulutan (appetizer during drinking sessions). Just ike any other Filipino dish, it is also best served with rice.

If you have not tried eating raw fish before, it might take a while to get used to. Give it a try and you might be surprised that you will start to like it.

Preparation Time:  3 hours
Yield:   6-8 servings
Ingredients:
2 lbs malasugue, cut into 1 inch cubes
1 ½ cups vinegar
1/2 cup calamansi juice
1 medium-sized onion, sliced
1 thumb ginger, sliced
3 small chili peppers, sliced into halves
salt and pepper to taste
cucumber, sliced (optional)
Cooking Directions:
1.    Clean the fish with water, and cut into 1 inch cubes. Remove the skin and bones.
2.    In a bowl, put the fish and add half of the vinegar. Let it stand for about 2 minutes, and then drain the vinegar carefully. This step reduces the smelly after taste.
3.     Add the rest of the vinegar in the bowl. Add the ginger, onion, chili peppers and cucumber. Season with salt and pepper.
4.    Toss them gently from the bottom to the top to ensure that the fish cubes are not crushed.
5.    Cover and leave in the refrigerator for about 2 hours before serving.
6.    Transfer to a serving plate and top with calamansi slices.
7.    Enjoy!

Kilawin Malasugue (Blue Marlin)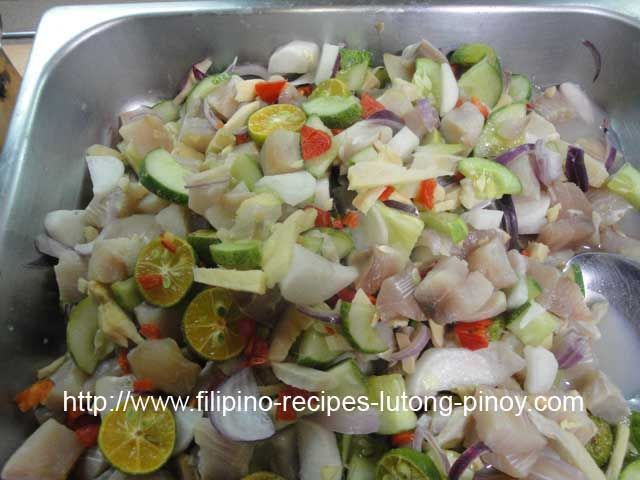 If you like the recipe you just found, please share it... 
---
Follow us on Social Media

What Do You Think About this Recipe? Anything You Want to Share?
Share it!