How to Make Puto
(Steamed Rice Cake)

HOW TO MAKE PUTO (Steamed Rice Cake)

One of the traditional rice cakes that is purely Filipino is the Puto.

This is the common term for a rice cake that is made from galapong or rice flour that is steamed and slightly sweetened. The galapong is soaked overnight and then ground while it is wet in stone grinders. During the soaking, fermentation usually takes place with the addition of yeast.
The Puto often comes in round shapes, the same size as the steamer that it is cooked in. The steamers are rings made of either thin strips of bent bamboo or sheet metal.

Puto is generally moist, soft with fine grain with a whiff of yeasty aroma and anise seeds. It is usually served on sheets of banana leaves. It tastes like cooked rice and is best enjoyed during breakfast with hot choco or coffee, or as an afternoon snack with dinuguan (blood stew) or as a dessert. Many native restaurants serve Puto in their menu. The addition of cheese, pandan, chocolate, and other flavorings and food coloring give this sweet treat different dimensions. The following variations have evolved from the different regions in the country: Puto Bumbong, Puto Lanson, Puto Manapla, Puto Maya, Puto Pao, Puto Seco, etc.

To save time and for convenience, ordinary flour can be used instead of the galapong or rice flour. You can line your molds with either banana leaves or wax paper or none at all. Enjoy your Puto any time of the day with your favorite drink or dinuguan.
Preparation Time: 10 mins
Cook Time: 30 mins
Yield: 25 pcs or 4 servings
Ingredients:

2 cups all purpose flour
½ cup white sugar
1 tbsp baking powder
2 eggs, beaten
½ cup evaporated milk
½ cup melted butter
1 cup water
cheddar cheese, sliced (optional)
water and vinegar for steaming
banana leaves
Cooking Directions

• Lay the banana leaves on the cupcake molds.
• In a mixing bowl, sift together the flour, sugar and baking powder.
• Blend in butter, milk, water and eggs until they are thoroughly mixed in.
• Pour the mixture into the cupcake molds, and then add the sliced cheddar cheese on top.
• Arrange the molds in the steamer. Put 1 tbsp vinegar and water in the steamer. Steam for about 20 minutes.
• Take the molds out from the steamer, and then the puto out of the molds.
• Let it cool off before serving.
• Enjoy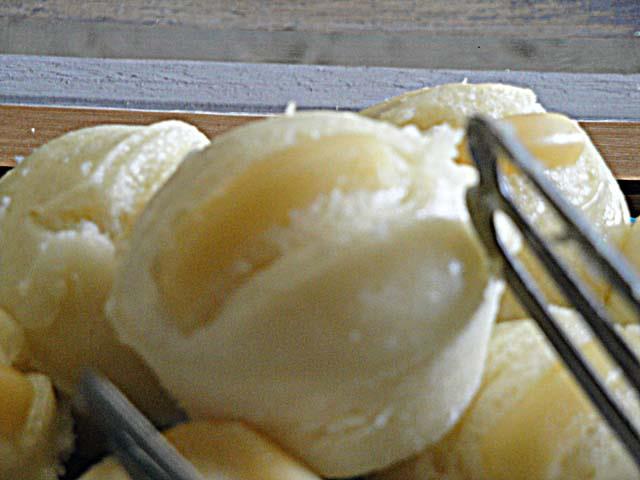 If you like the recipe you just found, please share it... 
---
Follow us on Social Media

************************************************************
You might like our other Kakanin Filipino Recipes 
What Do You Think About this Recipe? Anything You Want to Share?
Share it!