Lumpiang Shanghai
Filipino Recipe

Lumpiang Shanghai


As we all know, lumpia is originated from China. It is a spring roll of meat, beans and carrots. Filipino adapted this style of cooking and one of the most commonly cooked dish in fiestas or in any celebration.
The lumpiang shanghai is usually paired with sweet and sour sauce. Lumpia shanghai is one of many kinds of Filipino lumpias. It is filled with bean sprouts, vegetables, and small morsels of meat (seafood is also applicable ). Lumpia shanghai was created as an alternative to the more expensive type of lumpia. In fact, this is the least expensive lumpia. Here is the recipe;
Cooking Ingredients:
½ kilo ground pork
3 cups mongo sprout
3 pcs. Carrots chopped
2 tbsp. olive oil
2 tbsp. garlic chopped
2 tbsp. onion chopped
100 pcs. Lumpia wrappers
1 tbps. Salt
1 pc. chayote cut into thin strips
3tbsp. brown sugar
1 tsp. black pepper
2L cooking oil (for deep fry)
½ cup water
Cooking Direction:
Step 1: Use olive oil to sauté garlic until it turns brown. Then add onion, and ground pork. Mix
for 3 minutes.
Step 2: Add mongo sprout, black pepper, salt, sugar. Then mix once in a while in a medium
heat. Wait until the excess amount of water evaporates.
Step 3: Add chayote then mix for 2 minutes.
Step 4: Add carrots, mix for 2 minutes again then wait for about 3-5 minutes. (Observe for the
excess water to evaporate) Turn off the heat. (salt and pepper to taste)
Step 5: Wait until it becomes warm
Step 6: Lay out a few wrappers at a time on a plate then place 2 tbsp. of the meat at the center
of the wrapper. Then wrap it and seal it using small amount of water. (for reference: look for some videos on how to wrap lumpia)
Step 7: Fry your finished product until it turns to golden brown. Turn off the heat and serve.
.. and enjoy this tasty Lumpiang Shanghai Filipino Recipe!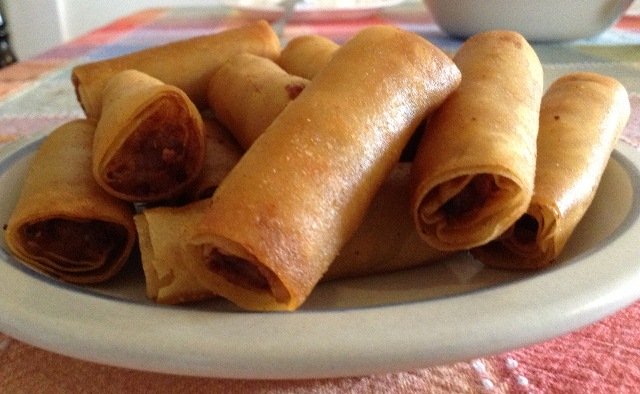 If you like the recipe you just found, please share it... 
---
Follow us on Social Media

What Do You Think About this Recipe? Anything You Want to Share?
Share it!