Halayang Ube
(Purple Yam Jam)
Halayang Ube
(Purple Yam Jam)

Have you eaten anything that is deep purple or bright lavender in color? If you ask a Filipino, the answer is a definite yes. All of us are familiar with the ube or purple yam. It is a type of yam that is also a tuberous root vegetable that is used in both savory and sweet dishes. The ube is utilized for desserts such as ice cream, cakes and tarts.
The Halayang Ube (Purple Yam Jam) is a popular dessert made from this tuber. The ube is first boiled, then mixed with butter, condensed milk and evaporated milk. Over low heat, the mixture is stirred constantly until it becomes really sticky. It is then poured into molds or bottled as jams. It can be eaten as is with topping like latik (toasted coconut milk crumbs) or toasted coconut flakes. It can also used as topping for the summer treat Halo-halo.

This dessert, aside from being so tasty and sweet is also appealing to the eyes because of its bright purple color. The texture is also so heavenly because it is so rich, creamy and smooth. Aside from these qualities, this dish is also very simple and easy to make, even a novice in cooking can surely create this sweet treat.

Being a popular dessert, it is a very common sight during celebrations like town fiestas, birthdays, Christmas and New Year because this root crop is available the whole year round. It is also grown anywhere in the country, even in your own backyard.

If this sounds really tempting to you, try this easy to follow and quick recipe for you will surely love it.

Cooking Time:   2 hours
Yield:   20-25 servings
Ingredients:
1 kilo ube (purple yam), boiled, peeled and grated
2 cans (14 oz) condensed milk
1 can (12 oz) evaporated milk
1/2 cup butter
1 tsp vanilla extract
Cooking Directions:
1.    Heat a pot or wok and melt the butter. Add the condensed milk and vanilla extract. Mix well.
2.    Add the grated ube and continue stirring. Lower the heat.
3.    Keep on stirring for about 20 to 30 minutes until the mixture becomes sticky and thick.
4.    Add the evaporated milk gradually, and continue stirring for another 15 minutes. Make sure it doesn't stick to the bottom of the pan.
5.    Butter the bottom of the mold or dish before pouring the mixture in. Flatten the top with a spatula. Let it cool. Refrigerate for about 2 hours before serving.
6.    Top with latik or toasted coconut flakes.
7.    Enjoy!

Halayang Ube (Purple Yam Jam)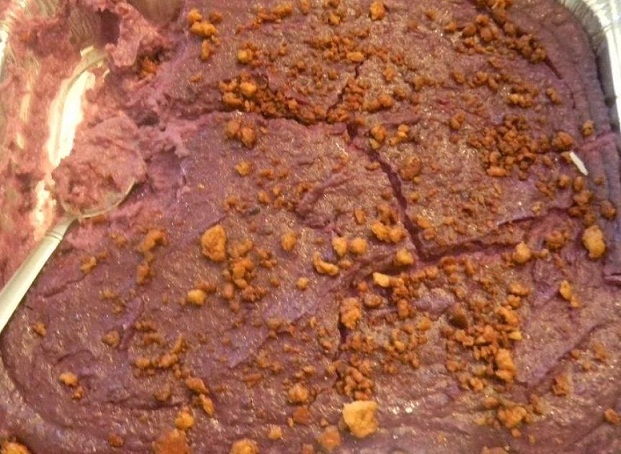 If you like the recipe you just found, please share it... 
---
Follow us on Social Media

What Do You Think About this Recipe? Anything You Want to Share?
Share it!