Dinuguan
(Pork Blood Stew)

Dinuguan (Pork Blood Stew)

It is a classic Filipino dish made from the blood of a pig, pork meat and others cook it with the intestines.

This dish has many different names in other regions or provinces in the Philippines, dinardaraan in Ilocano, tid-tad in Pampanga, sinugaok in Batangas, rugodugo in Waray, and sampayna or champayna in Northern Mindanao but all are the same, they are all made of pork's blood. Dinuguan comes from the word Dugo which means Blood.
This dish is usually served in every occasion like weddings and fiestas most especially in the provinces. It is delightful to eat or serve with a puto or steamed rice cake and steamed rice.

Preparation time: 15 minutes
Cooking time: 55 minutes
Total time: 1 hour and 10 minutes
Yield: 4 servings
Cooking Ingredients:

1 lb pork loin, cut into cubes
1/2 cup coconut milk
2 garlic cloves, finely chopped
1 medium onion, finely chopped
1/4 tsp ginger, julienne
2 tbsp spring onions, chopped
2 pieces long green pepper
1/2 cup red wine vinegar
1 tbsp brown sugar
2 cups pork stock
2 cups pork's blood
Salt and pepper, as needed

Cooking Direction:
1. Refrigerate the pork's blood until needed
2. Season the pork with salt and pepper. In a large deep pan, heat about 2 tbsp of oil, add the pork and sauté over medium heat for about 3-5 minutes until they have changed color. Transfer the pork in a bowl and remove some of the excess oil from the pan.
3. In the same pan, sauté onion garlic and ginger and cook until soft. Pour in the coconut milk, bring to a boil and bring back the pork. Cook for about 3 minutes
4. Add the stock and simmer for about 20 minutes or until the water or the stock is almost evaporated. Make sure that the meat is tender. Get the blood from the refrigerator, Place it in a blender and blend until smooth
5. Lower the heat, add the pork's blood, stirring constantly for about 5 minutes. Season with salt and pepper, add brown sugar and stir for another 5 minutes
6. Add the red wine vinegar and let it cook for about 15 minutes.
7. Garnish with a red chili and serve.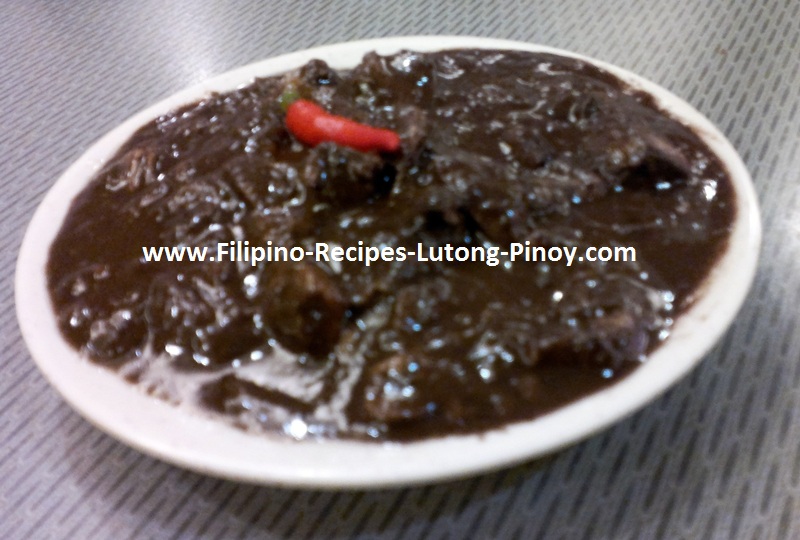 If you like the recipe you just found, please share it... 
---
Follow us on Social Media

What Do You Think About this Recipe? Anything You Want to Share?
Share it!