Sweet Potato Leaves Salad
(Talbos ng Kamote Salad)
Sweet Potato Leaves Salad
(Talbos ng Kamote Salad)

Everyone is familiar with the sweet potato mainly because of the tubers, but not everybody knows about its leaves and shoots, and their nutritional value. This lowly part of the sweet potato plant is rich in nutritional benefits. It is rich in vitamins A, B, C, the minerals calcium and phosphorus, anti-oxidants, iron and iodine. For those suffering from type 2 diabetes, this helps reduce cholesterol and blood sugar.

In the Philippines, it is known as kamote and the leaves are talbos. The leaves and shoots are not put to waste because there are several dishes that utilize this. It could be as simple and quick as boiling it in hot water and then squeezing calamansi (local lemon) over it. It could also be done the adobo way with Adobong Talbos ng Kamote, and as an ingredient for soups like Sinigang.

This recipe is called Sweet Potato Leaves Salad (Talbos ng Kamote Salad). This is a salad recipe and is served as a side dish especially with fried fish. The sourness of the salad balances off the saltiness of the fish. This salad dish is so inexpensive and good for you, too, because it is made mostly with vegetables. The leaves are blanched quickly, and then vinegar, tomatoes, onions and ginger are added. To add a Filipino twist, bagoong alamang (shrimp paste) is mixed in for that extra flavor. You can adjust the saltiness and sourness of the salad according to your preference

Try this quick recipe for your enjoyment, and don't forget the crispy and crunchy fish to go with this Sweet Potato Leaves Salad.

Preparation Time: 10 mins
Cooking Time: 15 mins
Yield: 2 servings
Ingredients:
1 large bunch talbos ng kamote, cleaned and leaves picked
2 medium tomatoes, sliced
1 medium onion, sliced
1 thumb ginger, sliced thinly
2 tsp bagoong alamang to taste
6 tbsp vinegar
3 cups water
salt
pepper
Cooking Directions:
1. Bring the water to a boil in a pot to prepare for blanching.
2. Add the talbos ng kamote. Let it stay in the pot for 30 seconds. Take the leaves out of the pot and drop them in a bowl full of ice water for about 30 seconds. Drain them in a colander then set aside.
3. In a bowl, mix together the talbos ng kamote, tomatoes, onion, ginger, bagoong alamang and vinegar. Add salt and pepper according to your taste. Toss all the ingredients slightly for even distribution.
4. Serve on a dish.
5. Enjoy!

Sweet Potato Leaves Salad (Talbos ng Kamote Salad)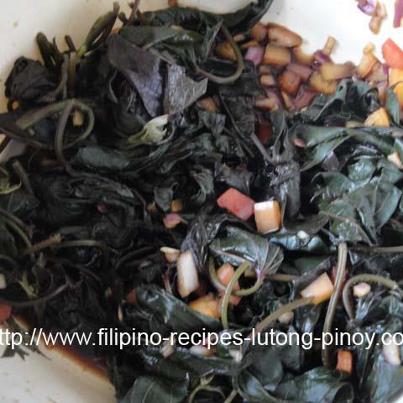 If you like the recipe you just found, please share it... 
---
Follow us on Social Media

What Do You Think About this Recipe? Anything You Want to Share?
Share it!