Ginataan
Halo-Halo

| | |
| --- | --- |
| Ginataan halo-halo is my favorite snack. It's an original Filipino dessert included in Filipino cuisine since long ago as my grandmother used to tell me. | |
The Filipino term ginataan literally means cooked with coconut milk either as a viand or as a dessert and halo-halo means mix-mix. So ginataan halo-halo is actually a variety of different ingredients cooked in coconut milk. And those ingredients would be different kinds of tubers such as taro root, purple yam and sweet potato. Then tapioca pearls and fruits like plantain bananas and jackfruit are added too. And a special ingredient called bilo-bilo or glutinous rice balls are sometimes added also. All these ingredients are simmered in coconut milk and sweetened with sugar. The resulting ginataan halo-halo is so yummy and mouthwatering that every Filipino can't say no to this dish. As for me, when we finished lunch, I start preparing the ingredients and cooked them so they'll be ready for a mid-afternoon snack. Cutting and slicing does take a lot of time but it's worth it.
Number of servings (yield): 6
Preparation time: 30
Cooking time: 40
Cooking Ingredients:
· Sweet potato – 1 pc (diced)
· Taro root (gabi) – 1 pc (diced)
· Purple yam (ube) - (diced)
· Plantain banana (saba) – 3 pcs (sliced in ½ inch thick)
· Jackfruit (langka) – 1 cup (sliced in strips)
· Small tapioca pearls (sago) – 1 cup (cooked)
· Glutinous rice flour – 1 cup
· Sugar – 1 cup
· Coconut milk – 4 cups
· Water – 1 cup
Cooking Direction:
1. In a bowl, combine glutinous rice flour with water then mix to make a paste. Form small balls about 2 cm in diameter. (Place a small amount of glutinous rice paste in your hand then place your other hand on top of it, rotate hands until the ball is formed.) Set aside.
2. Heat 3 cups of coconut milk in a heavy bottomed pot until it starts to boil. Mix occasionally to prevent coagulation.
3. Add the purple yam, taro root and sweet potatoes. Simmer for 7 to 10 minutes until the tubers are slightly soft.
4. Add the last cup coconut milk, the glutinous rice balls and sugar. Mix and simmer again for 7 more minutes.
5. Add the bananas and simmer for 2 minutes.
6. Add the jackfruit strips and simmer for 2 minutes more.
7. Then last, add the tapioca pearls and simmer for 1 minute.
8. The ginataang halo-halo is cooked when the glutinous rice balls float and the tubers are soft and chewy but not mushy.
9. Remove from heat and transfer to individual bowls and serve.
10. Share and enjoy eating.
Tips:
*** It is important to stir a few times from beginning to end to prevent sticking and burning the bottom. Use a wooden or plastic ladle if you must and stir gently. Roughly stirring will turn the tubers into small bits and of course you don't want a paste of tubers.
*** Always check the heat, medium-low or lower because thickened coconut milk tends to burn easily. When it happens, transfer all of the pot's contents to another pot also, do not scrape and include bottom where the burnt part is.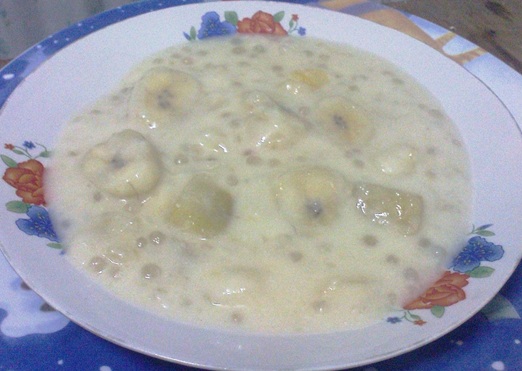 Ginataan Halo-Halo

If you like the recipe you just found, please share it... 
---
Follow us on Social Media

What Do You Think About this Recipe? Anything You Want to Share?
Share it!