Champorado Lutong Pinoy

(Chocolate/Cocoa Sweet Porridge) Filipino Recipe
Champorado Lutong Pinoy (Sweet Cocoa/Chocolate Rice Porridge)

Growing up, I remember always eating delicious champorado.

It's an original Filipino breakfast derived from a Mexican dish. It's a sweet chocolate rice porridge that is always served for breakfast since long ago. It's the Philippines' very own breakfast cereal even before commercial breakfast cereals in the West are created.
Traditionally, it is cooked by cooking glutinous rice just like the way regular rice are cooked except that coconut milk or evaporated milk is used instead of water. Then the chocolate tablea are mixed in it. They are pure cocoa blocks but sometimes they are hard to come by so cocoa powder or chocolate bars can be used as substitute.
Nowadays, commercial instant champorado mix is sold for faster cooking, but it still doesn't beat the allure of the sweet, chocolaty champorado cooked in homes. This is a heavy meal, champorado is best for breakfast as a starter for the day, during rainy days and nowadays many Filipinos also eat it as a dessert or mid-afternoon snack. As for me I love my champorado paired with tuyo, a sun-dried salted herring fish. The saltiness of tuyo balances the sweetness of champorado so I don't get tired of it. Bored of making ordinary rice porridge, try this and you'll love it.
Cooking Ingredients for Champorado Lutong Pinoy Recipe:

• Glutinous rice – ½ cup (washed and drained)
• Evaporated milk – 1 cup or more
• Coconut milk – 1 cup or more
• Chocolate tablea – 4 pcs
• Sugar - to taste

Cooking Procedure for Champorado Lutong Pinoy Recipe.

1. In a medium sized pot, combine together coconut milk, evaporated milk and chocolate tablea. Then turn on the heat to medium.
2. Regularly mix the mixture, simmering without letting the mixture boil. You can adjust the heat to low if it's too hot, use heat just enough to melt the chocolate tablea.
3. When the chocolate tablea has melted and everything is blended together, add the glutinous rice.
4. Simmer over low heat, regularly stirring to infuse the chocolate-milk mixture to the glutinous rice, thus also preventing from sticking and burning the bottom.
5. Simmer until the glutinous rice is cooked. You can add more coconut milk or evaporated if ever the glutinous rice is still a bit hard and not cooked yet.
6. Stir until the preferred thickness of the champorado is reached.
7. Taste the champorado and add sugar to make it sweeter if desired. Stir a few more times then remove from heat.
8. Ladle champorado in separate bowls, and drizzle some evaporated milk in a spiral pattern over it then serve.
9. Share and enjoy your breakfast.

Tip:
Serve champorado with fried or grilled tuyo on the side.

Number of servings (yield): 4
Preparation time: 15 minutes
Cooking time: 30-40 minutes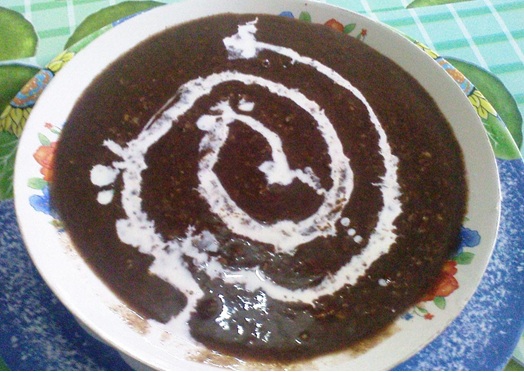 Champorado Lutong Pinoy Recipe - masarap!

If you like the recipe you just found, please share it... 
---
Follow us on Social Media

What Do You Think About this Recipe? Anything You Want to Share?
Share it!