Pichi-Pichi


Kakanin Filipino Recipe
| | |
| --- | --- |
| Pichi-Pichi Kakanin Filipino Recipe is one of the many Filipino desserts that I love. | |
It first came about in Quezon province where a lot people make desserts of puto or kakanin and sold as they traveled in fiestas.
The main ingredient for pichi-pichi is cassava/tapioca or kamoteng kahoy in Filipino. It is grated and mixed with sugar, water, and lye water (lihiya) fragranced by screwpine (pandan).
Then the mixture is steamed resulting in a sticky and gelatinous treat. For added flavor, it is coated with grated coconut meat; this also allows the pichi-pichi to be touched by bare fingers.
Aside from being eaten as dessert, I also serve pichi-pichi as a mid-afternoon snack. It's not very sweet and being a heavy dish, it fills people up to be able to carry on with their work and last till dinner. It's a dessert that's simple and doesn't require much culinary skills unlike other Filipino desserts so give it a try.


Ingredients for Pichi-Pichi Kakanin Filipino Recipe
• Cassava (kamoteng kahoy) – 2 cups (grated)
• Sugar - 1 cup
• Water - 2 cups
• Grated coconut meat - 1 cup
• Lye water (lihiya) - 1/2 tsp
• Screwpine leaves (pandan) – 10 pcs

Cooking Direction for Pichi-Pichi Kakanin Filipino Recipe

1. Boil water together with the screwpine leaves until the flavor comes out and the water reduced to half its original amount. Let it cool afterwards.
2. Add together cassava, sugar and the boiled water from step 1, stir well.
3. Next add the lye water a little at a time and constantly mixing the mixture.
4. When the ingredients are evenly distributed, pour into small cups or molds and arrange in a steamer.
5. Then, steam the mixture for about 40 minutes or until the color of the mixture becomes translucent.
6. Let the steamed pichi-pichi cool down completely, remove them from molds afterwards.
7. Roll the pichi-pichi pieces over freshly grated coconut.
8. Transfer into serving plate or banana leaves and serve.
9. Share and enjoy a happy meal.

Tips:
Use freshly grated coconut meat, 3 to 4 hours old is close to getting spoilt. If you won't be using it yet, at least put it in the refrigerator.
It is important to cool down pichi-pichi first before rolling them in grated coconut meat because coconut meat get spoiled easily when in contact with heat, especially if the pichi-pichi aren't going to be consumed right away.
 
Number of servings (yield): 6
Preparation time: 15 minutes
Cooking time: 60 minutes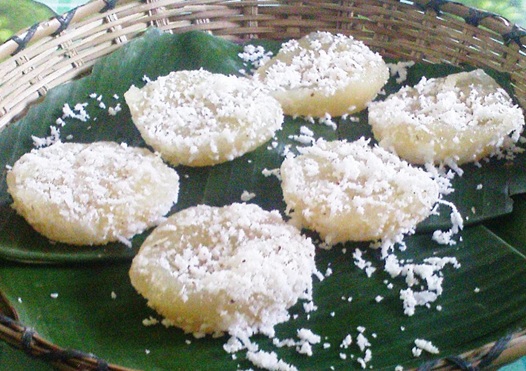 Pichi-Pichi Kakanin Filipino Recipe
If you like the recipe you just found, please share it... 
---
Follow us on Social Media

What Do You Think About this Recipe? Anything You Want to Share?
Share it!