Kangkong Ginisa with Hipon (Stir-fried Water Spinach with Dried Shrimps)
Kangkong Ginisa with Hipon (Stir-fried Water Spinach with Dried Shrimps)

Water Spinach (Kangkong) is undeniably one of the most popular vegetable choices here in the Philippines.
It is given that vegetables are really packed with vitamins and minerals, which really make them on top of the list of food choices that help promote a salubrious diet. The only problem with vegetables is that, people tend to get easily bored of eating them; as such it is really important to have various vegetable selections. That is why, in this recipe, we are going to try another approach in cooking the popular Water Spinach aside from just sautéing it with soy sauce and vinegar.
Kangkong Ginisa with Hipon
Ingredients:
1 bundle or large bowl of Kangkong, cut with an inch of stalk
½ teaspoon oil
1 cup of water
1 piece of onion, diced
1 clove garlic, minced
2 sachets or 2-4 tablespoons of dried shrimps
A pinch of salt
A pinch of Magic Sarap
Cooking Direction:
1. Heat the pan over medium-high flame from the stove, and then add oil. Sauté the onion and garlic, while carefully eyeing on them to prevent bitter taste from burned spices.
2. You can now add the handful of Water Spinach or Kangkong into the pan followed by a glass of water and the dried shrimps. Let it simmer for about 5 minutes.
3. Check the consistency of the spinach and the shrimps to be sure that they are already cooked. By then, you can add a pinch of salt and Magic Sarap. Mix them altogether. Have a taste of your dish so as you can add more salt if you sense that it still lacks some flavour.
4. Once everything is okay, you can serve your stir-fried water spinach with dried shrimps. Like other recipes, this dish is more palatable while it is hot.
Note: This recipe is good for 3-4 persons only. However, if it catches your taste, you can cook for a larger group the next time around. Another good thing about this is that since it is a good source of fiber, you can eat this alone if you want to have a light meal without getting hungry easily afterwards.
More of Kangkong Ginisa Filipino Recipe!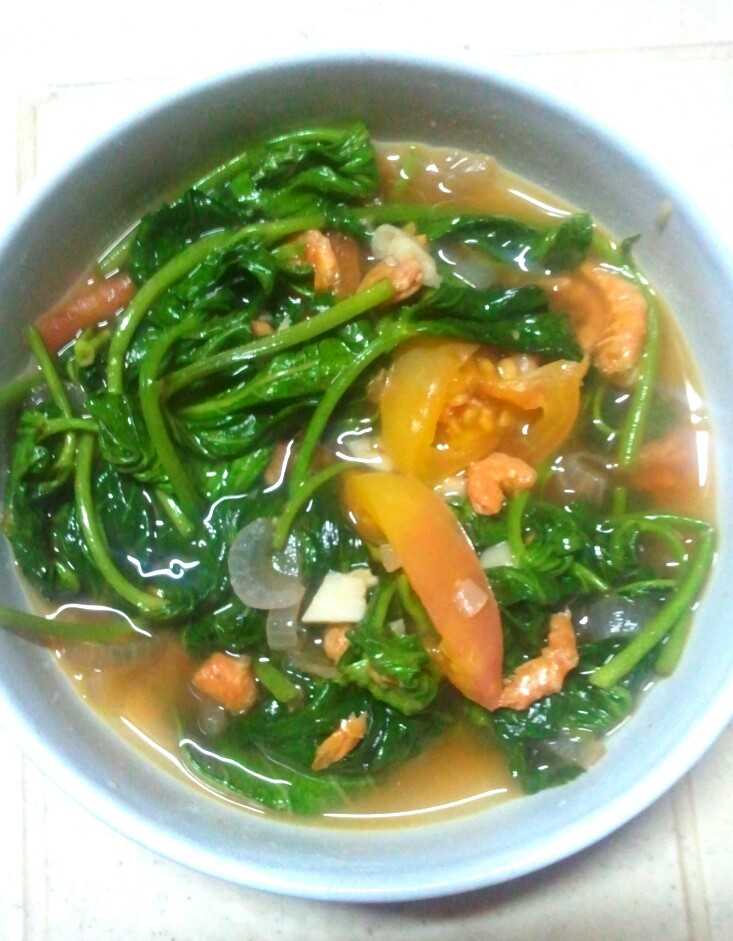 WATCH IT THE COOKING VIDEO
Kangkong Ginisa
If you like the recipe you just found, please share it... 
---
Follow us on Social Media

What Do You Think About this Recipe? Anything You Want to Share?
Share it!