Arroz Caldo Filipino Recipe Rice Congee
| | |
| --- | --- |
| The Arroz Caldo Filipino Recipe is one of my favorite breakfasts and many Filipinos love this dish. | |
Literally translated from Spanish as warm rice, this dish was adapted from when the Chinese people brought their own congee to the Philippines during the Spanish colonization period. Rice and chicken meat are the main ingredients here cooked together to make the wonderful arroz caldo that my family loves.
Sometimes, I also use chicken gizzards for this dish which is equally good and even more so topped with toasted garlic and with calamansi juice for a slightly sour taste. And arroz caldo not only as breakfast and snack but best serve during cold days to warm our body up, a food starter for babies learning to take solid foods and I serve it too for sick people because they can't stomach regular foods when unwell. Nowadays, lots of eateries serve arroz caldo but why not try it out because it is easy and simple.
Ingredients for Arroz Caldo Filipino Recipe
• Chicken - 1 lb (cut into serving pieces)
• Uncooked rice – 1 ½ cups
• Water – 6 cups
• Garlic – 1 tbsp (minced)
• Onion – 1 tbsp (minced)
• Green onions – 2 stalks (thinly sliced)
• Ginger – 1 knob (julienned)
• Cooking oil – 2 tbsp
• Fish sauce – to taste
• Ground pepper – to taste

Cooking Direction for Arroz Caldo Filipino Recipe:
1. Boil water in a large pot. Add the chicken and season with garlic, onions and salt. Simmer until the chicken is tender; be sure to always skim off the scum the starts to float in the surface.
2. Remove from heat. Place the chicken in a bowl and reserve the stock to be used later.
3. Wash rice until water is almost clear and drain.
4. Heat cooking oil in a large pot over medium heat. Saute the garlic, ginger and onion. Saute until the garlic starts to brown.
5. Add the previously washed rice. Mix well and sauté until the rice almost starts to brown.
6. Then add the stock from when the chicken is cooked a cup at a time, stirring regularly.
7. Lower the heat when the stock comes to a boil and simmer for 15 minutes or more until the rice starts to break. Always stir regularly to prevent burning in the bottom of the pot.
8. Add the cooked chicken, mix and simmer for 3 to 5 minutes.
9. Add fish sauce and ground pepper to taste, stir and turn off the heat.
10. Place the cooked arroz caldo in individual bowls. Add the fried garlic on top and garnish with sliced green onions.
11. Share with family or friends and enjoy eating.

Tip: For a better taste of arroz caldo, you can add some calamansi juice.

Number of servings (yield): 6
Preparation time: 15 minutes
Cooking time: 50 minutes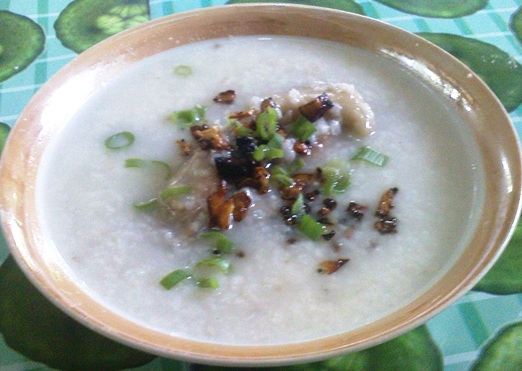 Arroz Caldo Filipino Recipe

If you like the recipe you just found, please share it... 
---
Follow us on Social Media

What Do You Think About this Recipe? Anything You Want to Share?
Share it!