Pancit Canton
Filipino Recipe

Pancit Canton
Filipino Recipe

Pancit or pansit is what we Filipinos call noodles we use in our traditional cuisines. They were introduced to us by the Chinese and have since become part of our cuisine. Various kinds of noodles can be found in our groceries, and different kinds of noodle dishes are offered in local restaurants. Panciteria is what we call places that specialize in noodle dishes.
There are so many variations of the pancit with the canton being one of them. To name a few, there is: Pancit Bihon, Pancit Lomi, Pancit Mami, Pancit Miki, Pancit Palabok, Pancit Sotanghon, and many more. Pancit Canton may pertain to both Chow Mein and Lo Mein.

This dish is basically a stir-fried dish made up of egg noodles, seafood, meat, poultry and different kinds of vegetables. Aside from these basic ingredients, you can also add squid balls, chicken balls, prawns, etc. It is usually served during special occasions like birthday parties because according to our belief, eating noodles during your birthday would bring you good health and long life. Hence, they should not be cut short.

It is usually eaten during mealtime and also during afternoon snacks. Clearly, there's no limit to when you can eat and enjoy this delicious food preparation. Enjoy this recipe and next time, try the other Filipino noodle recipes as well.

Preparation Time: 30 mins
Cooking Time: 20 mins
Yield: 6 servings

Ingredients:
1 lb pancit canton noodles
1 lb pork, thinly sliced
1/2 lb shrimp, peeled
4 tbsp soy sauce
2 tbsp oyster sauce
4 cloves of garlic, minced
1 onion, sliced
3 cups chicken stock
1 cup cabbage, shredded
2 carrots, peeled and julienned
1 cup green beans, sliced diagonally
salt
pepper
cooking oil
Cooking Directions:
1. Heat the oil and sauté the onion and garlic until tender.
2. Add the pork and cook until it's brown. Pour in the soy sauce and continue stirring for about 5 minutes.
3. Add the oyster sauce and chicken stock. Bring to a boil.
4. Add the cabbage, carrots and green beans and cook for another 5 to 8 minutes.
5. Add the shrimp, salt and pepper to taste, to the mixture and cook for another 2 minutes.
6. Add the noodles gently to prevent breaking. Continue cooking until the noodles has absorbed all the liquid and they are done.
7. Transfer to a serving plate and serve hot.
8. Enjoy!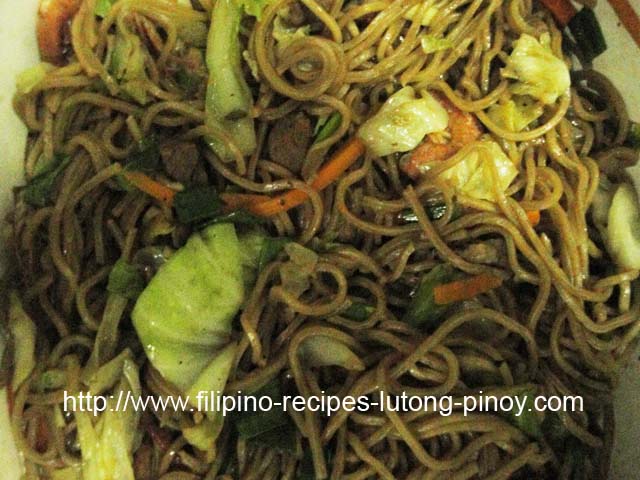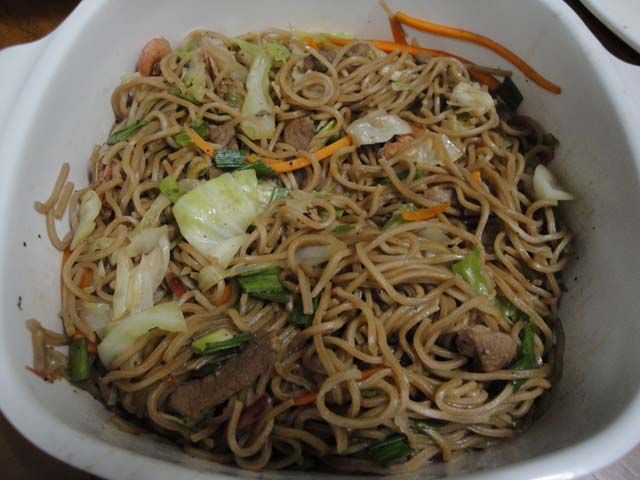 If you like the recipe you just found, please share it... 
---
Follow us on Social Media

What Do You Think About this Recipe? Anything You Want to Share?
Share it!