Sotanghon Guisado
Sotanghon Guisado

Another type of noodle that is popular in the Philippines is the Sotanghon. It is known by many names like cellophane noodles, bean thread noodles, crystal noodles, glass noodles and Chinese vermicelli. Its distinct feature is that it turns transparent, similar to cellophane, once it is cooked. It also turns slippery and very smooth. In Asian cuisines, it is widely used for different dishes like stir fries, soups, spring rolls and casseroles.
This recipe is called Sotanghon Guisado, which is very similar to the other noodle dishes like Pancit Canton, Pancit Bam-i and Pancit Bihon. The word guisado comes from the word "gisa" which means to sauté. This delicious and filling dish is made of chicken and tenga ng daga (wood ears). It has a very strong garlic aroma which is balanced off by adding drops of calamansi, a local lemon. Some people add annatto water to give an orange tint to the noodles. It doesn't change the taste of the noodles at all.
 
Just like the other Filipino noodle dish, you can expect to see it served during parties and celebrations especially during birthday parties, for according to superstition, it brings long life.

Preparation Time:   30 minutes
Cooking Time:  1 hour
Yield:   4-6 servings
Ingredients:
120 g sotanghon noodles
2 cups chicken meat, cooked and shredded
1 cup chicken stock
1 carrot, julienned
5 cabbage leaves, shredded
1 cup shrimps, peeled and deveined
1 medium-sized onion, chopped
5 cloves garlic, minced
1 red bell pepper, sliced
2 tbsp fish sauce
2 tbsp soy sauce
salt
pepper
cooking oil
green onions, sliced (for garnishing)
Cooking Directions:
1.    Soak the noodles in hot water until it becomes soft.  Set aside.
2.    Heat the oil in a frying pan and sauté the garlic and onion. Add the shrimps and cook until the color turns pink. Add the shredded chicken and cook for about a minute.
3.    Pour in the chicken broth and bring to a boil. Add the carrots, snow peas, bell pepper and cabbage. Cook for about 2 to 3 minutes or until the vegetables are crisp tender.
4.    Add the noodles, soy sauce and fish sauce. Mix all the ingredients thoroughly. Add salt and pepper, and adjust the taste. Let it simmer until the noodles are heated through.
5.    Transfer to a serving dish and garnish with sliced green onions.
6.    Serve with calamansi slices.
7.    Enjoy!

Sotanghon Guisado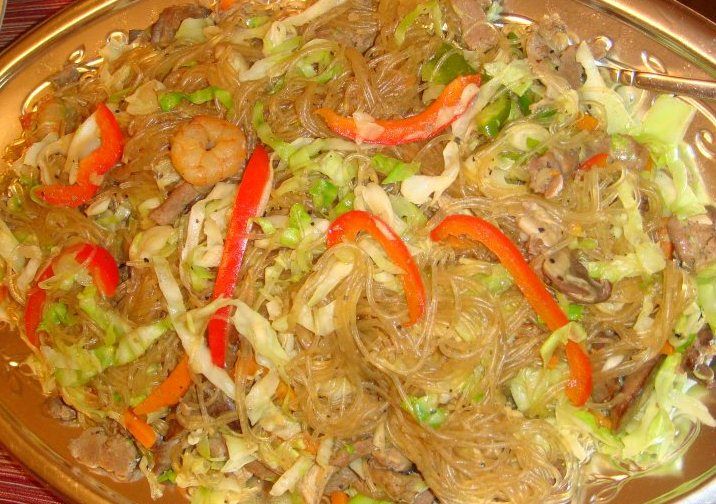 If you like the recipe you just found, please share it... 
---
Follow us on Social Media

What Do You Think About this Recipe? Anything You Want to Share?
Share it!