Nilagang Baka
(Beef Soup)
Nilagang Baka (Beef Soup)

Many cuisines across the globe have their own version of a Beef Stew or Beef Soup. This dish may vary in the method of cooking and ingredients used, but one thing that it shares is the comfort and warmth that people find in this dish. The Filipino version is called Nilagang Baka. Its literal translation is Boiled Beef.

Our version combines vegetables like potatoes, cabbage and onions, and seasoned with black peppercorn and fish sauce for that added kick. The beef cut that is usually used is brisket or beef chuck. When you use the beef shank, including the bone and marrow, the dish is called Nilagang Bulalo.

This dish may seem too complicated and hard to prepare but it is not. It really doesn't take that much work except for the long cooking time to tenderize the meat, which can usually take up to 2 hours, but it really is worth the wait. One thing good about Nilagang Baka is that compared to other dishes, this is a one pot meal. Once you have whipped everything up, you can leave it cooking on its own. For variety, you can use pork (Pork Stew) or chicken (Chicken Stew). It is also similar to Beef Pochero, another popular beef dish.

So on a cold and rainy day, try this recipe and see if it lives up to its name as a comfort food.

Preparation Time: 10 mins
Cooking Time: 2 hrs
Yield: 4-6 servings
Ingredients:
1 kilo beef
½ head garlic, minced
3 medium sized potatoes, cubed
1 large onion, diced
1/4 head of cabbage, cut roughly into big pieces
2 tbsp patis (fish sauce)
2 corn on the cob
salt
pepper
cooking oil
water
Cooking Directions:
1. Saute the garlic and onions in a large pot.
2. Add the water and beef, and bring to a boil. Allow it to simmer for around an hour or two or until the beef is tender. The longer the simmering, the more flavor you will get. If using a pressure cooker, cook for about half an hour.
3. Make sure the stock is clear by removing the scum that rises to the top.
4. Add the potatoes and corn and bring it to a boil again. Let it simmer until they are cooked. Season with patis, salt and pepper
5. Add the pechay or baby bok choy and cook uncovered for about 5 minutes. Serve hot with steamed rice, patis, soy sauce and calamansi juice on the side.
6. Enjoy!

Nilagang Baka (Beef Soup)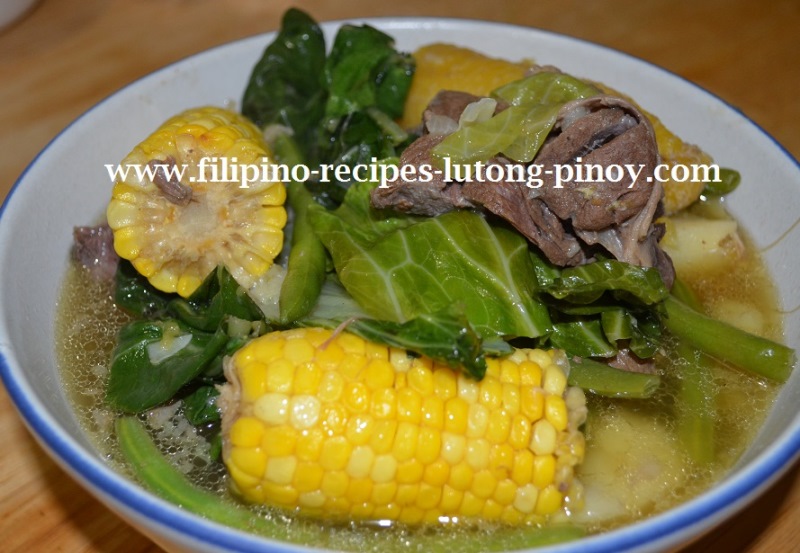 Watch our Cooking Video on How to Cook Laing
If you like the recipe you just found, please share it... 
---
Follow us on Social Media

************************************************************
You might like our other Beef Filipino Recipes .....
What Do You Think About this Recipe? Anything You Want to Share?
Share it!