Pork Adobo With Mushrooms
Pork Adobo With Mushrooms

Adobo does not need much introduction because it is the quintessential Filipino food – our national dish. It is cooked in every home and epitomizes our culture, heritage and uniqueness as a people. We can declare that this dish is solely our own, and not influenced by any other cuisines near and far. Just mention Filipino food and the first image that would come to mind is the Adobo, with the Lechon (roasted pig) not far behind.

Because of it being so popular, so common and so easy to prepare, there are a hundred and one ways of cooking this national pride. It is prepared by cooking either pork or chicken, or both, in vinegar, soy sauce and garlic. Through the years, the dish has evolved and several ingredients have been added to it like meats (beef, veal, goat), seafood (shrimps, squid), vegetables (kangkong or water spinach, eggplant, string beans) and spices (achuete or annatto, star anise, chilies). There are also several ways of cooking it or the regional versions, like Ginataang Adobo (with coconut milk) and Batangas Adobo (with atsuete). Some recipes even call for adding hardboiled eggs, crushed pineapple or pineapple juice.

This recipe is called Pork Adobo with Mushrooms for the simple reason that button mushrooms is added. It is the basic Pork Adobo recipe with a touch of mushrooms.

Preparation Time:   1 hour
Cooking Time:   1 hour
Yield:   4-6 servings
Ingredients:
2 lbs pork belly with skin on, cut into 2" cubes
10 cloves garlic, minced
1 medium-sized onion, sliced
1green bell pepper, sliced
½ - ¾  cup vinegar
1 cup soy sauce
2 pcs dried bay leaves
1 tsp whole peppercorn
1 lb fresh button mushrooms
1 cup water
salt to taste
cooking oil
Cooking Directions:
1.    In large bowl, mix together the pork belly, vinegar, soy sauce, bay leaves, half of the garlic and half of the onion, and marinate for at least one hour. Remove the pork and set the marinade aside.
2.    In a wok or large pan, heat the oil and sauté the rest of the garlic and onion. Add the green bell pepper.
3.    Add the pork and cook for a few minutes. Pour in the marinade, water and peppercorns, and bring to a boil. Let it simmer for about 45 minutes to an hour or until the pork is tender. Season with salt.
4.    Add the mushrooms and mix well. Simmer for another 5 minutes.
5.    Transfer to a serving dish, and serve hot with rice.
6.    Enjoy!

Pork Adobo With Mushrooms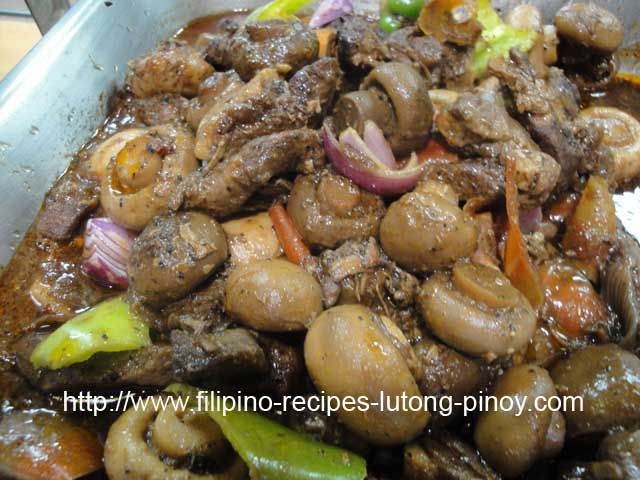 If you like the recipe you just found, please share it... 
---
Follow us on Social Media

What Do You Think About this Recipe? Anything You Want to Share?
Share it!