Recipe for Paella
Recipe for Paella

Another seafood dish that is popular in the Philippines is Paella. This rice dish has Spanish origin, specifically from the region of Valencia. Yellow rice is usually used in this dish which is cooked in a special flat pan called paellera. There are three types of paella, namely Valencian, seafood and mixed. The version on the Philippines is the one made of seafood. Other countries also have their one pot seafood dishes like the Gumbo in the US and bouillabaisse in France.

Being a coastal country, we are abundant in fresh seafood all year round, so this dish is close to our hearts because the ingredients are easy to find. The rice is cooked in broth and atsuete water (annatto). The most commonly used seafood are shrimps, prawns, crabs, scallops, mussels, squid or fish fillet. Of course, what seafood you put in the dish is solely up to you, and whatever is available at the time of cooking. Some people also add chorizo, a local sausage, and chicken meat to add variety.
 
Preparation Time:   15 minutes
Cooking Time:   45-50 minutes
Yield:   5-8 servings
Ingredients:
4 cloves garlic, minced
1 large onion, chopped
1 tsp ground atsuete seeds
1 cup sliced bell pepper
2 cups chopped tomatoes
1 cup long grain rice
1 tbsp finely minced ginger
1 ½ - 2 cups chicken stock
1 tbsp patis (fish sauce)
1 large chorizo, sliced diagonally
3-4 cups of fresh seafood of your choice
1 cup green peas
3 hard boiled eggs, sliced (optional for garnish)
vegetable oil
salt and pepper to taste
Cooking Directions:
1. Heat the oil in a wok or heavy saucepan. Saute the garlic, ginger and onion. Add the chorizo and cook until its fat renders and the onion caramelizes. Stir in the atsuete seeds and mix well, then add the rice. Cook for a few minutes.
2. Add the bell peppers, tomatoes, patis and chicken stock. Mix well and bring to a simmer. Cover the pan and cook over low heat for 10 to 15 minutes, stirring occasionally.
3. Add your seafood and green peas. Cover again and continue cooking over low heat until all the seafood are cooked through and all the liquid has been absorbed, about 10 minutes. Make sure that the rice is done. Add more stock if needed.
4. Add salt and pepper according to your taste.
5. Transfer to a platter or serving dish, and top with sliced hardboiled eggs, if desired.
6. Enjoy!

Recipe for Paella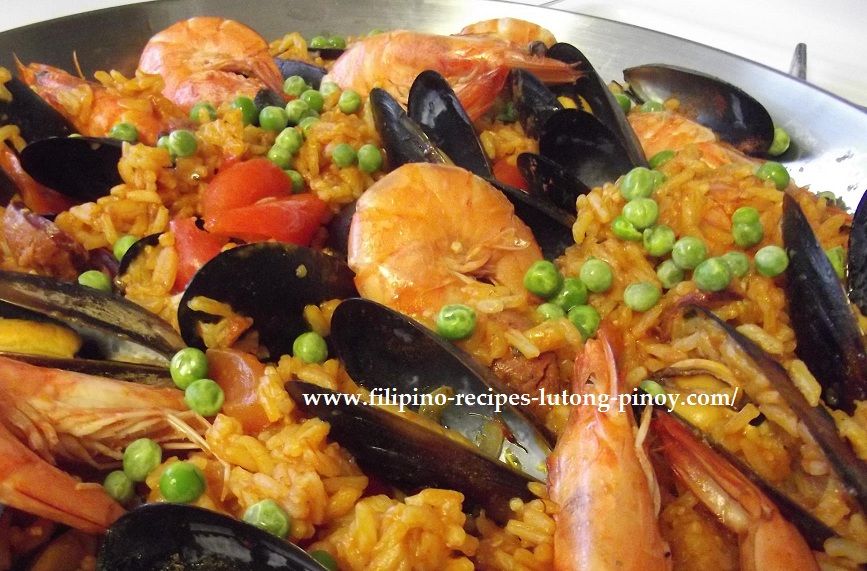 If you like the recipe you just found, please share it... 
---
Follow us on Social Media

What Do You Think About this Recipe? Anything You Want to Share?
Share it!