Seafood Delight Recipe
Seafood Delight Recipe

For the big seafood lovers out there, this recipe is perfect for you. It is called Seafood Delight or Mixed Seafood with Oyster Sauce. Whatever name it is called, it is guaranteed to fill your appetite and craving for seafood.

This dish is popular in the Philippines due to the abundance of seafood the whole year round. The markets are overflowing with seafood and they can be cooked in countless ways from simple steaming, grilling and mixing with vegetables in various sauces.      

This Seafood Delight Recipe is a combination of several seafood – crabs, mussels, squid, shrimps, scallops and clams, and combined with spices and oyster sauce to bring out their distinct flavors and taste. You don't need to have all the mentioned seafood to prepare this dish, you can use whatever is available in the market.  For those who can't have them fresh, you can use the frozen pre-packaged seafood mix that most supermarkets sell. It may look so complicated but it is easy and quick to prepare.

For this recipe, I used shrimps, squid, mussels and clams. You can add chilies, red pepper flakes or other spicy ingredients if you prefer it to be on the hotter side. This is best served hot with steamed white rice for dinner or lunch or as pulutan, a side dish during drinking sessions. Hope you enjoy this Seafood Delight recipe for it truly is a gastronomical delight from the Philippines to your dining table.

Preparation Time:   15 minutes
Cooking Time:   30 minutes
Yield:   4-5 servings

Ingredients:
1 kilo seafood of any kind
2-3 tbsp minced garlic
spring onions, cut 1 inch long
ginger, about 1 inch, peeled and sliced
1 large onion, sliced
1/3 cup oyster sauce
½ cup water
1 tbsp cornstarch
cooking oil
salt and pepper to taste

Cooking Directions:
1.  Clean the squid and cut into rings or 1 inch long pieces.
2.  On a large wok or pan, sauté the garlic, then the onions and ginger. Add water and bring to a boil.
3.  Add the mussels, clams and squid, and continue boiling for 5 more minutes. Add the shrimps and oyster sauce. Season with salt and pepper.
4.  Dissolve the cornstarch in ¼ cup water. Make sure that all the seafood are cooked thoroughly before pouring in the cornstarch mixture to thicken the sauce.
5.  Mix thoroughly and allow to simmer for a couple of minutes.
6.  Remove from heat.
7.  Enjoy!

Seafood Delight Recipe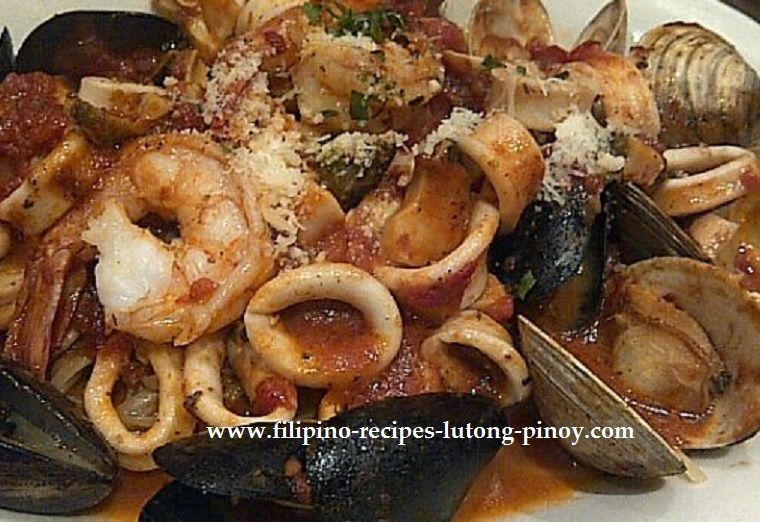 If you like the recipe you just found, please share it... 
---
Follow us on Social Media

What Do You Think About this Recipe? Anything You Want to Share?
Share it!