Brazo de Mercedes
(Crème-filled Log Cake)
Brazo de Mercedes
(Crème-filled Log Cake)

One of the most popular desserts that is present in almost all cuisines is the Jelly roll. It is a type of Sponge Cake Roll that consists of sugar, flour and eggs. The inner part is spread with a sweet concoction, and then it is rolled up, and sliced in circular servings.

The Filipino version is called Brazo de Mercedes or Crème-Filled Log Cake. This very sweet and decadent treat is made of two components – the light flavored and sponge-like meringue and the rich custard filling. The meringue just literally melts in your mouth and the sweetness of the custard balances it off. This is truly the sweet lover's delight.

Some people may think that it is hard to make, but it really isn't. As long as you have all the ingredients, then you are ready to have a taste of this heavenly delight. If you find it too sweet for your taste, you can easily adjust the amount of sugar in the recipe according to your preference. You can never go wrong with this sweet treat, and you will be coming back for seconds and even thirds.

Preparation Time:   15 mins
Cooking Time:   1 hour
Yield:   6-8 servings

Ingredients:
Filling:
8 egg yolks
14 oz condensed milk
1 tbsp sugar
2 tsp shortening

Meringue:
10 egg whites
4 tbsp confectioners sugar
1 tsp cream of tartar
1 ½ cups sugar
1 tsp vanilla extract
Cooking Directions:
1.    Preheat the oven to 375 F.
2.    To prepare the filling, heat a saucepan, and add the condensed milk and egg yolks. Stir constantly until it thickens. Add the sugar and shortening and continue stirring for another 5 minutes. Remove from pan and set it aside.
3.    For the meringue, beat the egg whites and cream of tartar together in a mixing bowl with an electric mixer until peaks are formed.
4.    Gradually add the vanilla extract and sugar. Continue the mixing until it becomes semi-firm.
5.    Line a cookie sheet with wax paper and grease it. Pour the meringue mixture on the entire baking tray. Bake it for about 10 minutes or until the top has turned brown.
6.    Transfer the meringue to another greased baking tray lined with waxed paper with the brown side at the bottom.
7.    Spread the filling on the meringue. Roll it into a log. Sprinkle the top with some confectioners sugar.
8.    Transfer to a serving plate.
9.    Enjoy!
Brazo de Mercedes (Crème-filled Log Cake)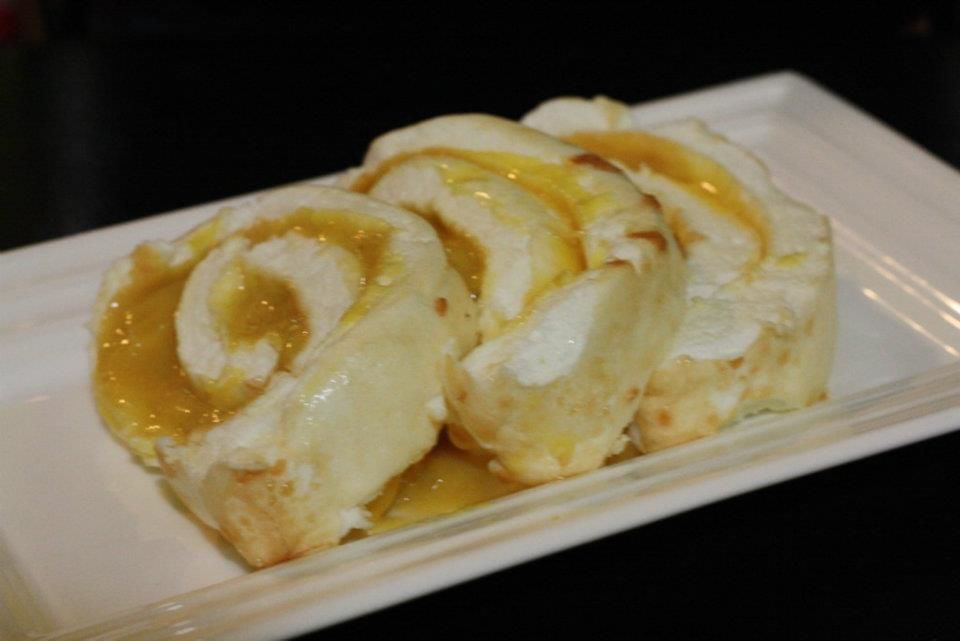 If you like the recipe you just found, please share it... 
---
Follow us on Social Media

What Do You Think About this Recipe? Anything You Want to Share?
Share it!